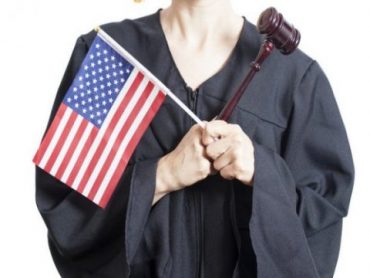 Eisenhower High School (Chicago) student Shemar Cooper and his mother apparently feel a need to make an issue about how much the former does not like his country.
Earlier this school year, Cooper refused to stand for the Pledge of Allegiance in his Spanish class, telling the teacher it was because "America sucks." His mother made him apologize for the comment, but not for his choice to remain seated.
However, the next time the Pledge was recited in that class, the teacher allegedly grabbed him and tried to force him to stand.
That teacher, a "Ms. Alfono" (it actually appears to be "Alfano") received a one-day suspension for her actions.
Now, Eisenhower has fired one of its driver's education teachers for his refusal to allow Cooper into one his training vehicles.
According to CBS Chicago, teacher Vince Ziebarth informed Shemar that he couldn't take driver's ed with him as long as he kept sitting during the Pledge.
"I had a one-on-one conversation with him that, due to his decision to sit for the [P]ledge, I would no longer take him in my car," Ziebarth said. "All I told him is that, based on his actions, he has a choice with his actions. I was exercising my right to make a choice as well."
Students at the school can choose from eight driver's ed instructors, so apparently Cooper had seven others from which to pick.
The Chicago Tribune reports Ziebarth contends that after their discussion, Cooper would joke about their "understanding" by saying "Hey, Mr. Z am I going to ride with you today?"
"Shemar was absolutely pushing the issue," he added.
Cooper's mother Kelley Porter Turner, however, claims it was Ziebarth who "wouldn't let it go."
After not having any conversation with Cooper for some two weeks, Ziebarth was called to the principal's office. The next day he was informed that his employment was terminated. He did not have tenure.
Ziebarth said, "I told him he can make a choice to sit, but as long as you choose to sit, you will not sit in my (drivers ed) vehicle. I did not tell him what to do."

Cooper's other friends drive with the teacher. When a group went out for behind-the-wheel training, Cooper asked if he also could go, his mother said.

The teacher reportedly told her son, "'You know what you have to do if you want to come with me,'" Porter Turner said.

"If my son didn't say anything to me, (the teacher) would have continued — and that's bullying," she said.

"He violated my son's First Amendment rights," she said.

She said she emailed an Eisenhower administrator and asked her to "take care of it."

"She called me two days later and said he was going to be terminated," said Porter Turner, who then contacted the news media.
Porter Turner believes Shemar's Spanish teacher actually should have been fired for what she did, saying "[t]hat would send a message that you can't get away with bullying my son." Unknown to The College Fix at the time, she had started a petition at Change.org near the start of the school year demanding that Ms. Alfano be let go.
Shemar's mom alleges that he has been the target of harassment as a result of the matter with Ziebarth, just as he was after the incident with Alfano. For instance, a student stood up in one of Shemar's classes and yelled at him "You got Mr. Z fired!" An argument followed.
Currently, a Change.org petition has 1,110 signatures asking that Ziebarth be reinstated at Eisenhower HS.
As I noted about the flap with Spanish teacher Alfano, Ms. Porter Turner is clearly correct that her son has the right to remain seated during the Pledge of Allegiance, and certainly no teacher should coerce a student into standing for/saying it, especially by physical means.
However, given the recent matter with Mr. Ziebarth, something tells me there's a bit more here than meets the eye, the biggest piece being this is the second circumstance pertaining to the same student (and parent) that's been given wide media coverage.
Then there's the fact Shemar could choose from between eight driver's ed teachers: Why did he select Ziebarth? To make an "example" of him? It's apparent the teen has a bit of a chip on his shoulder as witnessed by his "America sucks" remark, and his beliefs that the US is "a very racist country" in which there's "no freedom or love for black people."
Perhaps most concerning is why Ziebarth was canned instead of simply being reprimanded — told that he couldn't pick and choose which students he wanted to train. The Tribune notes Ziebarth would have done exactly that had he been so instructed, but was not given the option. (As a former teacher, such a mandate is one I would agree with. If Cooper, as it appears, is being penalized simply for exercising his First Amendment rights, that's a problem. After all, for what other beliefs could Ziebarth, or any other teacher, deny teaching a student?)
Did the school administration use the ultimate penalty because of the previous incident with the Spanish teacher, including mom's demand that she be fired?  Were Eisenhower officials fearful of Porter Turner hitting the press circuit again and again … and perhaps a lawsuit?
MORE: HS teacher accused of forcing student to stand for Pledge of Allegiance
MORE: Prof: Pledge of Allegiance, National Anthem 'ignore' America's racist history
Like The College Fix on Facebook / Follow us on Twitter
IMAGE: Shutterstock