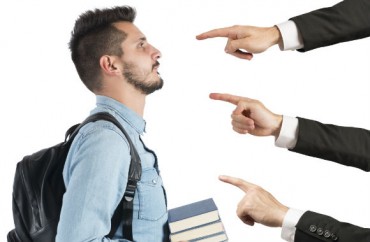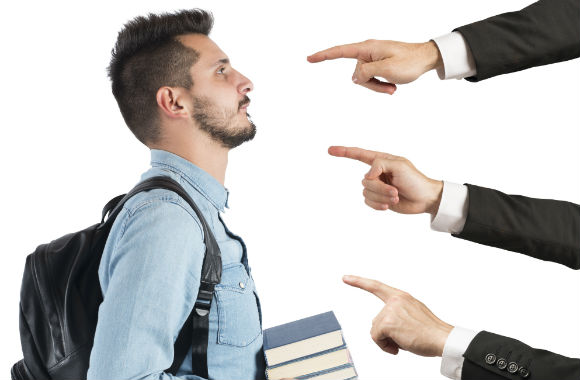 The stigma alone will cripple those accused of rape for life
NEW YORK – What if due process of law as guaranteed by the U.S. Constitution ceased to exist the moment that students stepped foot on college campuses?
Practically speaking, it stopped existing on campus several years ago, according to legal experts who spoke to the Cardozo School of Law chapter of the Federalist Society on Tuesday.
The systems in place to evaluate accusations at most colleges and universities are severely limited, and arguably unlawful, they told law students: Mere accusations are leading to expulsions and career-stunting social stigma for students who find themselves in the cross hairs of campus sexual-misconduct investigations.
Cherry-picking evidence
Amherst College has been particularly egregious in its assault on due process, said KC Johnson, a history professor at Brooklyn College and co-author of a book on the Duke lacrosse rape case, which was also subject of a recent ESPN documentary.
Johnson cited a lawsuit against the school by an accused student who was expelled despite a hearing panel judging it "credible" that he was "blacked out" while his accuser performed oral sex on him.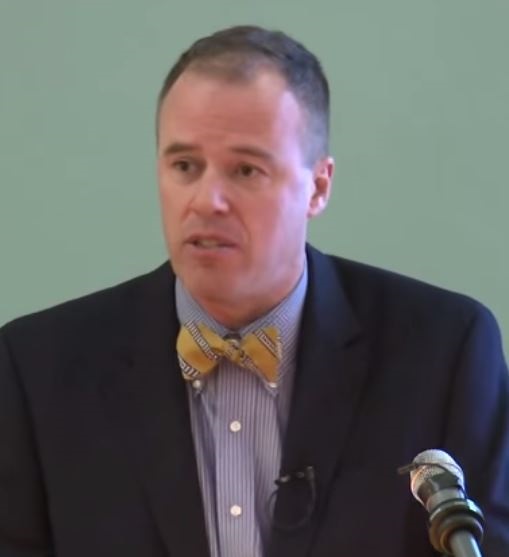 The daylong investigation of "John Doe" failed to uncover readily available text messages in which his accuser, "Sandra Jones," admitted orchestrating the encounter.
Mid-March filings by Doe show that Amherst's investigator cherry-picked evidence to avoid undermining the accuser, Johnson said. He has recently blogged about updates in the case.
(Though the professor referred to the accuser as Anna Seward in his Cardozo talk, she remains identified in filings as "Sandra Jones." At least one report claims Seward is the accuser based on a column she wrote for student publication AC Voice in which she recounts her alleged rape in spring 2012. Though it has since been removed from Seward's AC Voice archive, the column was saved to the Internet Archive.)
Student groups fighting for due process 'seem weaker now'
Gender bias against males has largely been ruled an unconvincing argument by accused students when they file suit in court, according to Robert Shibley, executive director of the Foundation for Individual Rights in Education.
The actual bias, which has found support in some courts, is simply against accused students, and the consequences are not slight, Shibley said.
Being expelled on a finding of sexual assault will forever marr one's academic and professional career, he said: The stigma alone makes a person too risky to hire or accept for admission even if that person can convincingly explain the situation.
Accused students face a stacked deck at Yale and other universities, which allow lawyers to be present but not say anything in their client's defense, if they are allowed in at all, Johnson and Shibley said.
"My fear is that we are now in a situation that will get worse before it gets better," Johnson lamented. "Student groups on campuses that are willing to fight for due process seem weaker now."
Expanding definitions justify more money for bureaucrats
The legal experts were quick to clarify that they did not deny sexual assault is happening on campus and were not playing down its seriousness, but that the stakes are so high that real investigators, law enforcement and courts need to be involved. "This shouldn't be controversial to say on campuses, but I'm telling you that it is," Shibley said.
One reason it's controversial is because of the Department of Education's Office for Civil Rights, which has pressured colleges to quickly wrap up sexual-assault investigations and threatened their federal funding if they don't meet OCR's terms.
While these federal efforts date back to 1997, OCR raised the stakes in its 2011 "Dear Colleague" letter. Schools that have tried to fight this top-down standard, according to Shibley, have been intimidated and pressured into submission – not just by federal officials but their own student activists.
By judging "verbal conduct" to count as sexual assault, among other questionable actions, OCR has triggered skyrocketing reports of assault on campus and strengthened its requests for more funding from Congress – a 30 percent staff increase and extra $5 million, Johnson and Shibley said.
The one silver lining, according to Johnson, is that the growing attention to lawsuits by accused students will prompt more courts to play a role. Unfavorable rulings and public outcry might then lead schools to conclude it's in their best interest to get out of investigations entirely.
Like The College Fix on Facebook / Follow us on Twitter
IMAGE: Shutterstock