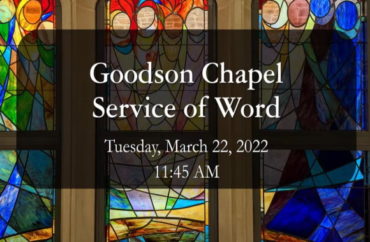 Event highlights emerging religious orthodoxy
A recent worship service co-hosted by Duke Divinity School and the Duke Divinity Pride student organization invited students to praise the "great queer one."
"We want to affirm everyone to be who they truly are," second year Master of Divinity student Caroline Camp began. "To step into the holy one's fire that burns away all that says we are not good enough and refines us by the Pentecostal fire to be who exactly the great queer one calls us to be. Let the spirit move you today, lift your hands and voices and dance in whatever way is most freeing to you."
The one-hour March 22 "service of word" took place in Goodson Chapel, described as the center of worship life at Duke Divinity School. A video of the event on YouTube shows several dozen in attendance.
Duke Divinity School and Duke Divinity Pride did not respond to requests for comment from The College Fix.
Camp, in her opening prayer, praised a God she described as "strange one, fabulous one, fluid and ever becoming one."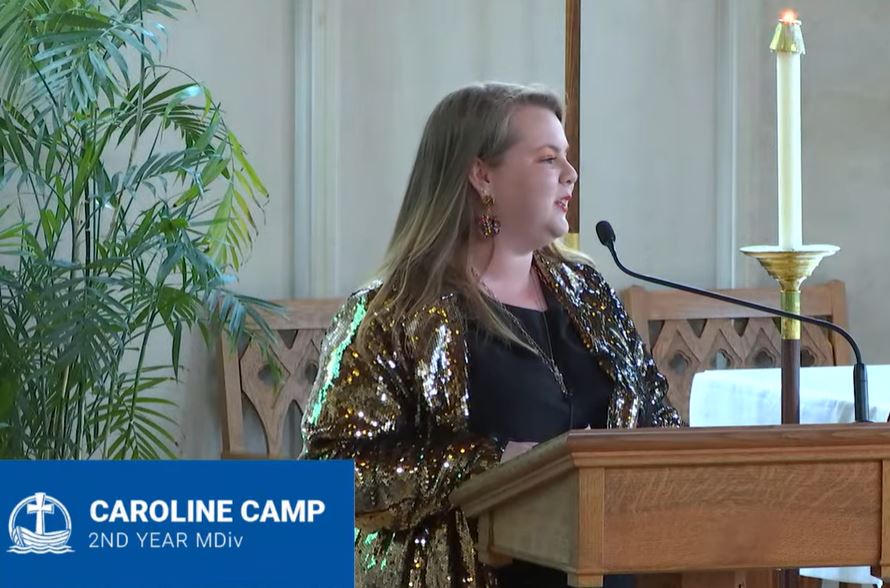 "Do not allow us to make our ideas of you into an idol," Camp said. "You are as close to us as our own breath, and yet your essence transcends all that we can imagine. You are mother, father, and parent. You are sister, brother, and sibling. You are drag queen and trans man and genderfluid, incapable of limiting your vast expressions of beauty, embodied in us, your creation."
"We recognize our flesh, in all its forms, is made holy in you," she continued. "With thanksgiving, we celebrate your manifestation in all its glorious forms," she said.
"Blessed are our bodies; blessed is our love; blessed are we when we celebrate that which the world turns away. Fill our hearts with a pride rooted in resistance to all that seeks to destroy."
The crowd sang "You Make Me Brave" by Bethel Music, read Romans 8:27-28, which the speaker introduced as words from the "mother god who loves us, and created us, and has called us," and sang "You Say" by Lauren Daigle.
After the songs, more speakers took to the pulpit.
Third-year Master of Divinity student Tirzah Villegas told the audience that ending her relationship with the "white male god" of her childhood allowed her to begin another "with a deliciously queer god who loved in scandalous ways and created us for pleasure and wholeness."
"Beloved, you are never called to abandon yourself," Villegas said. "Abandoning the self is negating the truth of who you are, and that is always a lie."
Villegas was followed by multiple other speakers, including student C.J. Surbaugh, who argued the story of Jacob in Genesis 32:22-31 could be interpreted as a "trans calling."
"I wonder how Jacob felt after the angel had gone and he was left alone in the dawn light with a bruised hip and a new name," Surbaugh said. "I wonder if he felt the same way I did on the clear October morning when I learned to give myself a hormone shot."
Event co-sponsor and student group Divinity Pride, which describes its main purpose as affirming the "dignity, faithfulness, and strength of Lesbian, Gay, Bisexual, Trans, Queer/Questioning, Intersex, Asexual, and gender/sexuality non-conforming Christians," is part of a broader push that seeks to redefine orthodox Christianity—and to redefine God.
Bigger organizations like The Reformation Project also urge the church to "fully affirm LGBTQ people."
Sexual authenticity is now the "unquestioned orthodoxy in our culture," according to Carl Trueman in a March 3 First Things column.
Similar to students' beliefs at Duke Divinity School, trans activist Plastic Martyr tweeted on April 10: "If Jesus were alive today he'd 100% be part of the LGBTQIA+ community." The statement drew hundreds of responses.
"Jesus is alive today," replied Scott Aniol, professor of pastoral theology at Grace Bible Theological Seminary and editor-in-chief of G3 Ministries. "And this is what he says."
Aniol then referenced 1 Corinthians 6:9-11: "Do not be deceived: neither the sexually immoral, nor idolaters, nor adulterers, nor men who practice homosexuality, nor thieves, nor the greedy, nor drunkards, nor revilers, nor swindlers will inherit the kingdom of God. And such were some of you. But you were washed, you were sanctified, you were justified in the name of the Lord Jesus Christ and by the Spirit of our God."
MORE: Ahead of Easter, students mock Jesus, joke his semen provides 'everlasting life'
IMAGES: YouTube screenshots
Like The College Fix on Facebook / Follow us on Twitter