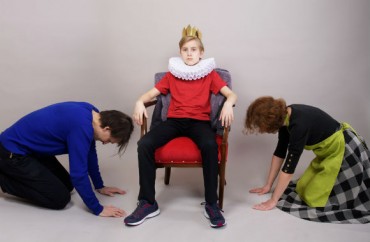 Sit-in loses member to a 'poetry slam contest'
The leader of North Carolina's "Moral Mondays" protests against conservative legislative policies wants to turn a parking dispute at Duke University into his next civil rights crusade.
On Tuesday the Rev. William Barber sought to join nine Duke students who have occupied part of an administration building since Friday in order to force the resignation of key administration officials and secure a $15 minimum wage on campus.
In particular they want Tallman Trask, executive vice president, to step down in response to allegations that he hit a parking attendant with his car before a sporting event two years ago and called her a racial slur.
Trask issued an apology Monday to Shelvia Underwood and the community for behavior that "fell short of the civility and respectful conduct" he owes everyone at Duke, but the administration has refused to negotiate further with the squatters until they "voluntarily" leave the Allen Building.
Theology theatrics
According to live updates from The Chronicle, protesters said Barber tried to get into the building to meet with them but was not let in. The administration closed the building Tuesday "due to the continuing occupation," it said.
"It does concern me that administration would not let two preachers in to pray," said Barber, also the state NAACP president. He then led a prayer outside and threw a copy of the Constitution to the protesters before "leaving the scene," the paper reported.
Rev. Barber just threw a copy of the Constitution to the occupiers #participatorydemocracy #DismantleDukePlantation pic.twitter.com/EjM3NN0z8u

— Erin Parish (@erindparish) April 5, 2016
"I BELIEVE THAT WE WILL WIN!" – call & response between occupiers & supporters #DismantleDukePlantation pic.twitter.com/qQFUcdZCOT

— Eli Meyerhoff (@EliMeye) April 5, 2016
Adding to the circus environment, one of the squatters left the building Tuesday night so she could participate in a "national poetry slam contest" in Texas, The Chronicle said.
Senior Amy Wang will leave sit-in students to compete in a national poetry slam contest, plans to rejoin sit-in:https://t.co/4DMM2ILdb0

— The (Duke) Chronicle (@DukeChronicle) April 6, 2016
One protest leader told the paper Tuesday they were "staying indefinitely" outside President Richard Brodhead's office. Though the squatters accepted takeout food ordered by Vice President for Student Affairs Larry Moneta, leader Carolyn Yao dismissed the gesture as "detracting from their refusal to include [campus] workers in the negotiations."
Protestors lead chants as Barber exits. pic.twitter.com/8Y5mEs14E6

— The (Duke) Chronicle (@DukeChronicle) April 5, 2016
Amnesty, reparations and a 'living wage'
Sparked by Underwood's allegations against Trask, now the subject of a lawsuit, the sit-in came in response to broader allegations of mismanagement in Parking and Transportation Services and mistreatment of its employees.
Yao said administrators "put everything from arrest to expulsion and disciplinary probation on the table" before agreeing not to punish them.
"Unconditional amnesty" is one of only two demands that the administration has met, according to The Chronicle. The protesters' demands are listed on a large banner on the surrounding grounds, including "reparations" and "living wage for all employees."
Protestors remain outside Allen into Tuesday, sit-in continues into its 80th hour pic.twitter.com/nYoC78aklo

— The (Duke) Chronicle (@DukeChronicle) April 5, 2016
They have reiterated their demands several times, with tweets on the sit-in using the hashtag #DismantleDukePlantation.
Two protesters told The Chronicle on Sunday, before amnesty was granted, that they were not afraid of any backlash for occupying a school facility.
"They don't scare me. They're going to have to come in and physically arrest me," protester Lara Haft said.
"What does it mean for us to be talking about workers' rights, using our rights to civil disobedience and peaceful protest, and then being threatened to be brought to court? We're being threatened with being suspended or expelled in that disciplinary process," she said.
Duke initially sought to force the students from the building Saturday, but then resorted to closing the building – an inconvenience that protesters have said is intended to make them the villains.
"The Duke administration has worked very hard with the students who currently occupy the Allen Building to enable productive discussions," according to a press release from the Duke administration.
"Closing the Allen Building while these negotiations go on has presented a significant disruption to students, faculty, staff and visitors, and cannot continue indefinitely," the release said. "As a result, the university will only continue negotiations after the nine students voluntarily leave the Allen Building."
RELATED: Duke activists attempt high-tech lynching against top officials for one disputed slur
Like The College Fix on Facebook / Follow us on Twitter
IMAGE: Valery Sidelnykov/Shutterstock