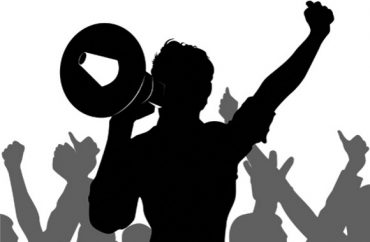 Protesters at Duke University crashed President Vincent Price's (no, not him) address to alumni earlier today to demand, The Chronicle reports, "institutional change in labor practices and student support, among other areas."
With shouts of "President Price get off the stage" and "Whose University? Our University," the demonstrators invoked the school's 1968 "Silent Vigil" which followed the assassination of Martin Luther King Jr.
"These events would later be summarized as a turning point for Duke, but 50 years later so much has still remained the same," junior Trey Walk said. "We are still here."
Except that, while in '68 Duke students protested things like the Vietnam War and racism, the contemporary activists are demanding a $15 per-hour wage for all Duke employees, mandatory staff training for dealing with undocumented students, and doing way with "medically unnecessary surgery on intersex infants in [the] Duke Health System."
Many alumni in attendance "did not respond positively" — booing, yelling, and even turning their backs to the stage as the activists attempted to lay out their demands.
After approximately 10 minutes, Sterly Wilder, Trinity '83 and associate vice president for alumni affairs, initially announced the talk would be canceled. Five minutes later, the students left to further address their demands in front of the Chapel. …

Outside Page Auditorium, the group of student gathered in front of the Chapel to further explain their demands. Approximately 50 onlookers surrounded them to watch.

Sophomore Gino Nuzzolillo characterized the demands as a living document that is subject to change over time.

"The future we imagine is one free of oppression, suffering and exploitation," Nuzzolillo said. Because there are many issues that exist on this campus and the world beyond, the issues and demands listed here are not comprehensive and only scratch the surface of the work we have yet to do."
Other student demands include:
— "Guarantee need-blind admissions for international students and loan-free financial aid"
— "Create a community space for students with disabilities by Spring 2020"
— "Create and enforce a standardized set of consequences for acts of hate and bias on campus"
— Hire at least one Black Africanist in the African and African American Studies Department, at least one black faculty member in the Nicholas School for the Environment, at least one (1) indigenous faculty member, and at least two Latinx faculty all by next spring.
Price said he'd take look at the demands, but said "the challenge now in a culture that confuses shouting back and forth with conversation" is finding a way by which to have a real discussion.
"I disagree deeply that this was an appropriate way to handle these issues," he said.
MORE: Protesters shout down dissident feminist
MORE: College folds to protesters, mandates diversity training
IMAGE: Shutterstock.com
Like The College Fix on Facebook / Follow us on Twitter