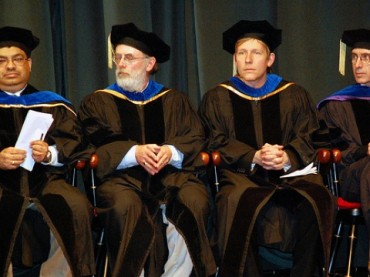 Now here's a clever bit of reporting.
Robert Elliott has compiled quite the hit-list in an Examiner piece that offers us a blow-by-blow account of the latest escapades of the Gang of 88 – complete with email contact information for each scholar. The list reads like a socialist manifesto. It's sort of an eye-opening experience if you read the whole list and see some of the tripe these professors peddle:
The Gang of 88 was a group of 88 professors at Duke University who signed an inflammatory advertisement that appeared in the Duke Chronicle (the university's student newspaper) shortly after black stripper Crystal Gail Mangum falsely claimed she was raped by white members of the Duke lacrosse team.

Here's an update on the infamous 88, roughly eight years since the publication of their ad:

Abe, Stan (Art, Art History, and Visual Studies) – Received a PhD from UC Berkeley in 1989. Currently teaching a course called "Chinese Buddhist Art" at Duke. Can be contacted at [email protected]

Albers, Benjamin (University Writing Program) – Currently teaching "Community Studies; Gender, Crime and Justice, Public Security and Insecurity" at Bridgewater College in Virginia. His "special interests" are the "American Militia Movement, Interactionist Theories of Identity, and Gun Policy." Can be contacted at [email protected]

Allison, Anne (Cultural Anthropology) – Robert O. Keohane Professor of Cultural Anthropology; Professor of Women's Studies at Duke. Her "specialties" include "Transnationalism" and Marxism. Can be contacted at [email protected]

Aravamudan, Srinivas (English) – Professor and Dean of the Humanities at Duke. Contributed to the book "Jameson on Jameson: Conversations on Cultural Marxism" in which he asks Mr. Jameson the following question:

Your interest in allegory, fourfold medieval hermeneutics, and also the evocation of Dante's selva oscura at the Bonaventure Hotel has sparked a recent discussion in PMLA about your religious unconscious. Is there something to this?

This maniac can be contacted at [email protected]

Baker, Houston (English; African and African American Studies) – Now a "Distinguished University Professor" at Vanderbilt University teaching African American Literature. Can be contacted at [email protected]

Baker, Lee (Cultural Anthropology) – Still Professor of Cultural Anthropology at Duke. Also Dean of Academic Affairs of Trinity College. His "specialties" include race, identity, ethnohistory, race studies, and African Diaspora. Can be contacted at [email protected]
Bravo, Mr. Elliott. Nicely done.
Click below to read the whole list, if you think you can stomach it. It's long and unsettling – but it's important to keep tabs on them.
Like The College Fix on Facebook / Follow us on Twitter
IMAGE: Pierre Herrera/Flickr