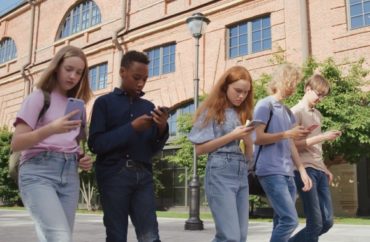 'The most mentally healthy [adult] respondents are those who did not get a phone until their late teens,' psychologists wrote
Earlier smartphone use is associated with diminished mental health in adulthood, according to top psychologists' analysis of the world's largest mental health database.
"The younger the age of getting the first smartphone, the worse the mental health that the young adult reports today," psychologist and NYU professor Jonathan Haidt and research assistant Zach Rausch wrote in a post on Haidt's blog, After Babel.
"This is true in all the regions studied," they wrote. "The relationships are consistently stronger for women."
"We are likely setting students and teachers up for failure when we leave decisions about device use, particularly when it involves highly addictive apps designed to keep the users engaged as long as possible, to individual students," Rausch told The College Fix in an email.
"When teens traded in their flip phones for smartphones with social media, we began to see a spike in teenage mental illness, particularly among girls," Rausch said.
Nonprofit research foundation Sapien Labs released the data analyzed by Haidt and Rausch.
The Global Mind Project, Sapien's major research initiative, "has created the world's largest database of comprehensive mental health profiles along with demographics, lifestyle and life experience factors of the Internet-enabled population," according to its website.
"The database now contains profiles of over 1 million internet-enabled people across 65+ countries and 9 languages, along with demographics, lifestyle and life experience factors," the website stated. "2000+ new profiles are added each day."
The firm released a report last month centered on a question they posted in January to young adults ages 18-24: "At what age did you get your own smartphone or tablet (e.g. iPad) with Internet access that you could carry with you?"
Researchers analyzed reported accounts of mental functioning in detail, including mood and outlook, adaptability and resilience, and drive and motivation, according to the report.
When the researchers plot the age of first smartphone use "on the X axis against their extensive set of questions about mental health on the Y axis, they find a consistent pattern," Rausch and Haidt wrote on Haidt's blog.
The earlier the smartphone access, the worse the mental well-being.
"The respondents who got their first smartphone before they were 10 years old are doing worse, on average, than those who didn't get one until they were in their teens," Haidt and Rausch wrote.
"The most mentally healthy respondents are those who did not get a phone until their late teens."
"These findings have important implications for parents, heads of K-12 schools, and legislators currently considering bills to raise minimum ages or require age verification for some kinds of sites (especially social media and pornography)," they wrote.
The psychologists also addressed the problem of enforced age limits. Currently, no laws enforce when children can sign away their personal information to companies on the internet.
However, "there is one federal bill that does a particularly good job of focusing on age limits and age verification," according to Haidt and Rausch.
The Protecting Kids on Social Media Act, a bipartisan bill introduced by two Democrats and two Republicans, "would set a minimum age of 13 to use social media apps and would require parental consent for 13 through 17 year-olds," according to an April 26 news release from Senator Brian Schatz of Hawaii, a cosponsor of the bill.
"The bill would also prevent social media companies from feeding content using algorithms to users under the age of 18," according to the release.
"There is a great deal that can be done…to address one of the top fears that parents express about the safety and health of their children," Haidt and Rausch concluded.
MORE: 'Unplugged Scholarship' offers college students $5K to give up smartphones 
IMAGE: nimito/Shutterstock
Like The College Fix on Facebook / Follow us on Twitter