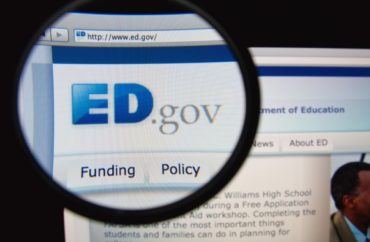 The U.S. Department of Education on Tuesday announced the launch of a "Free Speech Hotline" that will be monitored by the agency's attorneys and aims to be a venue for students across America to report First Amendment violations.
"We're announcing today the creation of the free speech hotline so any abridgement of free speech on a college campus can and should be reported to this new hotline," said Assistant Secretary of Education for Postsecondary Education Robert King in making the announcement.
The hotline will be an email account to be monitored by the Department of Education's Office of the General Counsel. The address is [email protected].
"It's time to feel free to laugh again," noted King, who made the announcement about the hotline during an event hosted by the Education Department that highlighted how political correctness and cancel culture has made humor an impossibility in the quad and classroom in recent times.
The event, titled "What is to be done? Confronting a Culture of Censorship on Campuses," focused on the prevailing trends on college campuses that censor, shut down, shout down, or otherwise silence unpopular opinions, guest lectures, and other groups and activities.
Every complaint will be reviewed, and investigations opened "where it is appropriate to do so," a department spokeswoman told The Wall Street Journal.
The event was hosted via a web streaming service and lasted nearly two hours.
During the meeting an official noted that seven investigations have recently been launched into free speech violations on college campuses.
"During the last few months, we've begun seven investigations into university free speech policies pursuant to Title 20 in the United States code section 1094. There were many more situations which could have been investigated, but these were the most egregious," Department of Education's Chief Investigative Counsel Paul Moore said during the event.
He did not cite the exact universities under investigation, or why.
"In essence, the department opened investigations to determine if universities were committed to permitting free and open expression as specifically guaranteed by those same universities according to their internal policies and binding promises to their prospective students, as well as to their university faculty and staff. Shockingly, the race of the person exercising free speech suddenly seems quite relevant in several universities," Moore said.
Speakers during the "What is to be done?" event compared the rise in cancel culture to totalitarian governments throughout history, such as the USSR, and cited George Orwell's dystopian classic "1984" frequently as a comparison to today's censorship of speech on campus.
Among the speakers was Joshua Katz, a Princeton classics professor who found himself under fire over the summer by student and faculty protesters after he questioned demands made by activists supporting Black Lives Matter.
In his opening remarks, Katz was unapologetic to his critics.
"I do not regret the events that have brought me here today," he said.
The conference also hosted conservative writer Rod Dreher, biologist Bret Weinstein, and student Justine Murray, the latter of whom were also victims of cancel culture antics who have since contributed to defending free speech in higher education.
Each speaker shared their story about how they were targeted by the cancel culture mob and some of the misfortunes that befell them for ending up on the wrong side of political correctness.
"Eventually someone is going to get hurt. Because it started with one student, it just started with me, but then other students started getting targeted," said Murray, a student at Syracuse University who was canceled for dressing up as Melania Trump for Halloween and supporting a Zionist professor at the school.
"Other professors started getting targeted, and when, God forbid, if someone gets physically hurt, the university is just going to pretend that they didn't even see it coming. And I fear for that day, and I hope that this panel can help raise some light on that issue, and send a warning out to other universities and administrations that this is a real problem," Murray said.
Other remarks from members of the Department of Education explained the urgency of the fight against cancel culture and how normalizing extreme political correctness could pose a major threat to America.
Kristina Arriaga, a member of the U.S. Commission on International Religious Freedom, pointed out in her address how cancel culture has been used throughout history.
The U.S. would have lost out on many of its greatest achievements, such as giving women the right to vote and emancipating slaves, if radical or unpopular opinions had been suppressed in the past, she said.
"We are in a space where culturally we are being told that being offensive, being in the center, is actually a threat to the tribe, a threat to our way of life," she said. "Imagine what would have happened had that thinking prevailed before many offensive ideas became some of the greatest successes we have had as our nation."
Additionally, she advised the audience to hold fast to their beliefs in the face of adversity.
"Do not let anybody silence you. It is your duty to exercise your First Amendment rights and it is your obligation to protect that right for others around you, particularly for those with whom you disagree," she said.
MORE: Want free speech on campus? Here are 5 reforms to solve the problem from the inside.
IMAGE: Gil C. / Shutterstock
Like The College Fix on Facebook / Follow us on Twitter