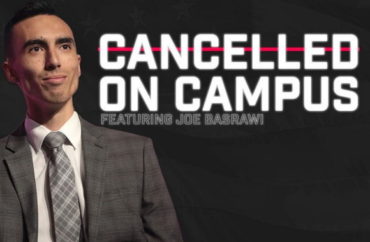 A private college in Pennsylvania is facing increased scrutiny this semester after barring a guest speaker critical of critical race theory from speaking on campus as well as hosting a series of events on racism that barred white people from attending.
The Foundation for Individual Rights in Education on Nov. 23 flagged Elizabethtown College for the incidents and argued the private institution has engaged in discrimination, censorship, and is "quickly gaining a reputation for disregarding student rights."
The foundation noted that, making matters worse, administrators have ignored its letters and remained silent in the face of such Constitutional criticisms.
"Etown is faltering on its obligations to protect student rights," the foundation argued, calling on the college to "right the ship and show that its commitments to free expression — and nondiscrimination — are more than just lip service."
Elizabethtown College's annual tuition and fees are $34,600, according to U.S. News and World Report.
Nichole Gonzalez, dean of students and head of diversity, equity and belonging, did not respond to requests from The College Fix seeking comment.
The incidents that sparked the concerns took place throughout the fall semester.
In one, the college hosted workshops on racism Oct. 12, Oct. 21 and Nov. 2 that restricted white people from attending.
"Participants in this three-session series facilitated by Dr. Dawnielle Simmons and Ellis Bonds will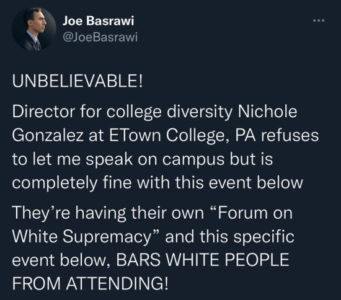 receive a copy of 'Mediocre: The Dangerous Legacy of White Male America' by Ijeoma Oluo and engage in reflective exercises around the text and their own experiences. The programming for this event is for participants who identify as individuals of color," the college advertised.
On the same three days, the college hosted a group for white people during which they would discuss the book "Me and White Supremacy" then talk about "how individuals who identify as white can become better allies to people of color," according to the college.
In the other incident, college leaders in September refused to allow the student group Turning Point USA to host conservative Joe Basrawi, a critic of critical race theory.
Basrawi, whose ethnicity is Latino and Arab, said college officials "were kind of insinuating that I would be a racist. I would be a white supremacist."
"Well, that's so far from the truth. … I know what racism feels like. I have experienced racism," he told The College Fix in an interview. "So, if anything, I'm the perfect person to talk about this. I've gone through it."
The Turning Point chapter worked to get administrators to allow the talk, even changing the speaker's digital advertisements to say "critical race theory" instead of the original "critical hate theory."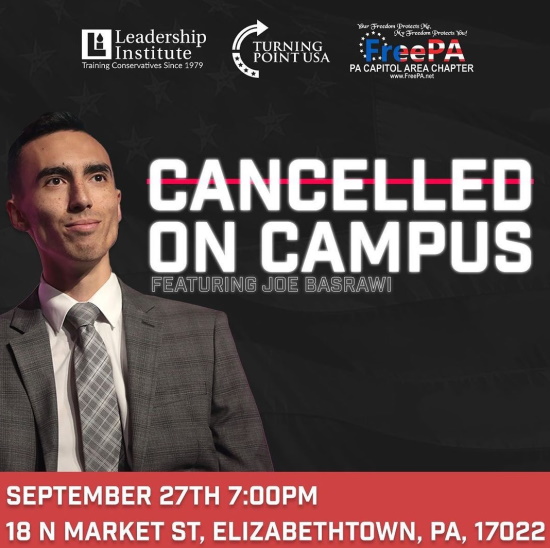 The event was scheduled for September 27 on campus, but was forced to relocate to an off-campus location after Gonzalez informed Turning Point USA the event was not approved.
According to Basrawi, officials said he was not welcome to speak on critical race theory since he is not a "critical race theorist."
"It boils down to this whole narrative that the radical left is trying to push on campus–anyone who disagrees with the administration, the all-mighty administration, must be canceled at once," Basrawi said. "They will not allow anyone on campus to speak freely."
"Elizabethtown violated their own rules and their own policies. Elizabethtown violated my right to speak and violated Turning Point USA chapter's right to assembly," Basrawi said. "Now, they're a private university, they can do anything they want. But, if they say one thing, and do another, it's hypocritical."
FIRE, in its memo on the college, noted that "no student organization should be denied the use or benefits of tuition-supported campus resources merely because administrators disagree with the group's beliefs or those of the speakers it wishes to hear."
"This sends a terrible message to students: express or associate with only views that meet our approval, or leave campus."
MORE: 'Killer Kyle off our campus': ASU students protest Rittenhouse as possible student
Like The College Fix on Facebook / Follow us on Twitter