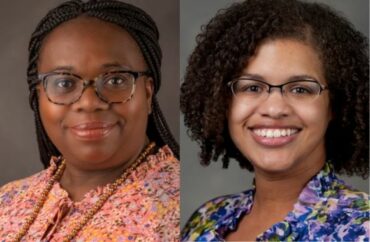 Professor says 'the spirit be moving regardless of the church as an institution,' when it comes to politics
"The State of Blackness" is in "crisis" due to Republican states passing laws that restrict the teaching of critical race theory as well as other conservative policies, a panel at Elon University concluded recently.
The university's "diversity, equity and inclusion" director for its education school said "the state of Blackness in regard to public education, particularly in K-12, is in crisis and has always been in crisis."
"The school-to-prison pipeline, the opportunity gap, the anti-Blackness all shrouded in false rage about indoctrination," Professor Cherrel Dyce said at the Oct. 3 panel.
"There are schools that center the needs of Black students and there are those that criminalize, degrade and marginalize our babies," she (pictured, left) said, according to the university write-up of the event.
Black activists need to be willing to use religion as a political tool, another professor said.
"Religion for us is a political act," religious studies Professor Sheila Otieno.
"Where is the movement of the spirit now? The spirit be moving regardless of the church as an institution," the scholar said.
"How do I consider myself as a human? That may be the most religious question of all. We're entering these conversations in different spaces," she said. "When we say, 'Black lives matter,' that sounds like church to me. Maybe we're making our own church that looks different but is church nonetheless."
Political scientist Jessica Carew said "anti-woke" has a more insidious meaning.
"Anti-woke to many people is actually anti-Blackness," Carew (pictured, right) said, in reference to laws that limit the teaching of critical race theory and DEI.
She said:
Florida is banning 'divisive content' that 'makes children feel guilt, anguish or psychological distress' as if there aren't already Black students experiencing psychological distress. They are attacking diversity, equity and inclusion programs and mandating that you can't require diversity statements or have mandatory DEI training.
It's part of the "extreme attack on education," according to Carew.
Limits on teachers engaging in political activism in the classroom is a problem, according to Professor Dyce, who said educators must do more to fight the system.
"We fix systems and not kids. We need to train teachers to fix the systems that uphold oppression," Dyce said. "We don't need any more harm to Black bodies because of your unwillingness to [acknowledge] you might be anti-Black. You need to get out of your spaces and be in Black-centered spaces so they can teach you what you don't know."
Dyce also said "racism is affecting the academic futures of Black children."
MORE: Canadian scholars seek 'fat' PhDs for 'taking up space' research
IMAGES: Elon University
Like The College Fix on Facebook / Follow us on Twitter