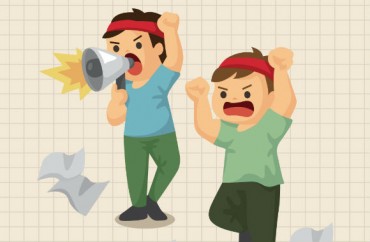 Roughly 300 students crashed Emerson College's faculty assembly this past Tuesday to protest the school's "complacency" regarding racism and discrimination against "students of color."
Like many other such protests at colleges across the fruited plain, the activists presented a list of demands to deal with the "oppression" and "microaggressions" minority students supposedly face on campus.
According to The Berkeley Beacon, a smaller group of nine "share[d] their grievances and impassioned accounts of their experiences as students of color" and berated the assembled faculty for their lack of "cultural competency":
"You're all educators, you all have multiple degrees, why should we have to educate you about the issues we face? Why is it our job? Unless Emerson wants to start paying me a salary," SGA intercultural commissioner Chala Tshitundu said. "You will always have something more to do, something more to learn, but you will not learn it from me because that is not my job."
Lucie Pereira, co-chair of Protesting Oppression With Educational Reform (the title neatly shoehorned into the acronym "POWER") added "If this looks awfully familiar to you, that's because students of color have been dealing with the same thing at this institution for years," alluding to similar protests over two years ago.
POWER asked its supporters to sign a Change.org petition which includes numerous demands of Emerson officials such as "mandatory online cultural competency training for new students," "utilization of orientation as a platform" for mandatory diversity discussions, and a "redesign" of the First-Year Writing Program "to include more conversations around diversity, inclusion, socio-economic diversity, etc."
The petition also demands five scholarships of at least $10,000 for "for domestic students of color by fall 2019" and a "funded commitment to recruit, retain and promote more domestic diverse faculty in every department."
In a campus-wide email, President M. Lee Pelton said Emerson is committed to quickening the pace of change on campus.

"While the College has made progress in certain areas of its commitment to diversity, inclusion and social justice, there is still more good and effective work to be done. I look forward to working with faculty, students and staff to continue our progress in these critical areas," he wrote.

Pelton did not directly address any of the petition's specific demands in his email, including a redesign of the First-Year Writing Program and Fundamentals of Speech Communication, as well as online cultural competency training for new students. …

POWER Correspondent Julio Villegas posed a direct question to the audience of educators, asking them to consider why they chose to teach at Emerson. …

After students said their final remarks and marched out of the theater, faculty stayed behind to go over each of the demands posted on the petition.

Hours later, dozens of the protesters crowded onto the Dining Center stairs for the second half of the protest, where many who couldn't speak at the faculty assembly shared their stories.
Many others offered their "enlightening" comments and insights on the Change.org petition:
"There is too much racism, sexism and classism in our world and it must stop."
"I'm signing because we're all human being and we all needed to be treated fairly."
"I am anti racist."
"I will fight for my fellow students and their right to exist and learn in peace."
Unsurprisingly, the call for a cessation of microaggressions and demands for being treated fairly at Emerson apparently don't apply to those of differing political ideology.
Read the Beacon article and Change.org petition.
MORE: Right-of-center students at Emerson College, sick and tired of being bullied, demand change
MORE: Conservative student flees small Boston college after year of harassment
IMAGE: notkoo/Shutterstock.com
Like The College Fix on Facebook / Follow us on Twitter