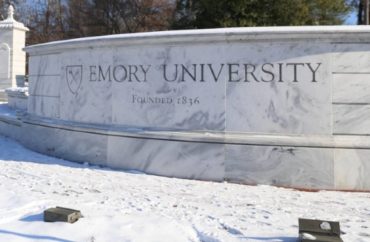 Funded projects will 'contribute the eradication of inequities'
Emory University faculty engaged in 'equity' and 'racial' justice' focused research can apply to receive up to $300,000 to support their work.
The funds will support "faculty research projects that will contribute to the eradication of inequities in society," according to a December 15 news release.
The standard grants will give $150,000 over three years, and "a small number of special projects" will be awarded up to $300,000, the release stated. The number of awards has not been specified.
"These grants aim to contribute to both our understanding and the disruption and dismantling of persistent cycles of inequity and injustice that affect significant aspects of life in our society," Carol Henderson, vice provost for diversity and inclusion and chief diversity officer, stated in the news release. "It's fitting that Emory, an institution committed to applying knowledge in the service of humanity, elevates and supports research by scholars who attend to humanity's most pressing and persistent challenges."
Research topics my include "environmental justice and climate change," "the arts as a force for justice," or "impacts of racism and discrimination on health and/or biology," according to the release. Scholarship should be "impact-oriented." A committee comprised of Emory faculty will evaluate the proposals and recommend selections to the Office of the Provost.
The provost's office recently made the funding available for proposals, two months after the initial announcement on October 25.
The funding comes from a promise by President Gregory Fenves to dedicate the university to "addressing issues of racial and social justice" shortly after his term began in August 2020.
Emory released in January a Diversity, Equity and Inclusion Strategic Planning report, which specified more than 200 recommendations for faculty, students, scholarship, and investment in its home city of Atlanta.
The guide aimed at specifying "how we practice the values of equity, diversity, and inclusion—how we interweave them into the very fabric and infrastructure of the Emory enterprise."
MORE: Department of Energy to require diversity-equity plan in all science research grants
IMAGE: Emory University/Facebook
Like The College Fix on Facebook / Follow us on Twitter