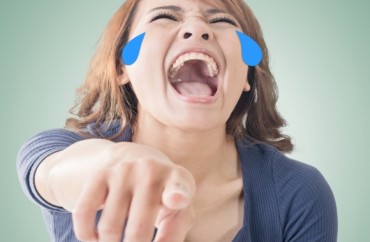 Approximately 40 students at Emory University were disturbed — disturbed, I tell you — about "pro-Donald Trump for president chalkings" that had appeared Sunday night throughout campus, and hence protested at the college administration building yesterday afternoon.
Student Jonathan Peraza, who led the protesters, shouted to administrators "You are not listening! Come speak to us, we are in pain!"
You read that right: "In pain." Because of chalk graffiti which says "Trump 2016."
"It is our duty to fight for our freedom. It is our duty to win. We must love each other and support each other. We have nothing to lose but our chains," Peraza and the activists chanted, quoting Assata Shakur, who was sentenced to life in prison for her role in a cop killing.
Kind of gives the term "hyperbole" a whole new meaning, eh?
"I'm supposed to feel comfortable and safe [here]," one student said. "But this man is being supported by students on our campus and our administration shows that they, by their silence, support it as well … I don't deserve to feel afraid at my school," she added.

"What are we feeling?" Peraza asked those assembled. Responses of "frustration" and "fear" came from around the room, but individual students soon began to offer more detailed, personal reactions to feelings of racial tension that Trump and his ideology bring to the fore.
RELATED: High school students accused of racism at basketball game due to chants of 'Trump!'
Grievances were not restricted to shortcomings of the administration. "[Faculty] are supporting this rhetoric by not ending it," said one student, who went on to say that "people of color are struggling academically because they are so focused on trying to have a safe community and focus on these issues [related to having safe spaces on campus]."

[Student Harpreet] Singh reported having seen multiple chalkings that read "Trump 2016" between Cox Hall Bridge and the Dobbs University Center (DUC). "What I also saw on the steps near Cox [Hall] Bridge was 'Accept the Inevitable: Trump 2016,'" he said. "That was a bit alarming. What exactly is the inevitable? Why does it have to be accepted?"
Emory President James W. Wagner was even asked why the school reacted so swiftly to swastikas scrawled on a Jewish fraternity two years ago, but failed to do so regarding the Trump messages.
Another student asked Wagner to send out a campus-wide email "to acknowledge that there are students on this campus who feel this way about what's happening … to acknowledge all of us here."
Campus snowflakes need affirmation, you see.
The university said it will examine security footage to see if it can determine who was responsible for the graffiti. If they are students, "they will go through the conduct violation process."
Hopefully any misconduct will be regarding the vandalism and not the political message.
RELATED: 'Stand Up To Trump' rally unites progressive activists, millennials 'against hate'
RELATED: Rowdy fans and foes of Trump clash at Winthrop University campaign stop
Like The College Fix on Facebook / Follow us on Twitter
IMAGE: Shutterstock