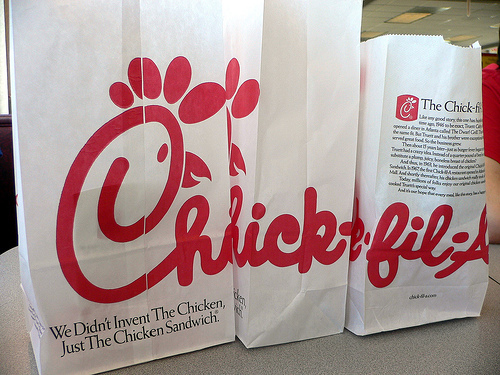 Via Laura Byrne at Red Alert Politics:
Students at Emory University apparently don't want to "EAT MOR CHIKIN."

The school has decided to kick Chick-fil-A off campus, not for political reasons, but because the restaurant's famous chicken sandwich apparently "isn't very popular."

"A chicken sandwich isn't very popular, so we want to do a burger place," Michael Sacks, co-chair of the Food Advisory Committee at the school, told Talk WSB. "It's kind of unfortunate that people very easily jump to the conclusion that Chick-fil-A's political views were the reason we got rid of them, but that was not our intention at all."

While Emory insists students just don't like chicken sandwiches, the school's LGBTQ community is still claiming victory. This move to boot Chick-fil-A from the campus food court comes after the gay and lesbian community campaigned heavily to remove the restaurant, after the fast food chain announced its stance on same-sex marriage last year.

Last December, Emory's Student Government Association passed a resolution opposing Chick-fil-A because it "funnels millions of dollars…to groups fighting against equal rights for queer people and to oppress sexual minorities," according to the resolution.

Following the initial controversy surrounding Chick-fil-A, Ajay Nair, Emory's senior vice president for campus life, said in a statement that the "recent public statements by Dan Cathy, president of Chick-fil-A, do not reflect Emory's values as an institution," but "freedom of expression and an open exchange of ideas are also central tenets of the Emory community."
Click here to read more.
CLICK HERE to Like The College Fix on Facebook.
Laura Byrne is Student Free Press Association's spring 2013 fellow at Red Alert Politics. 
IMAGE: Link 576/Flickr