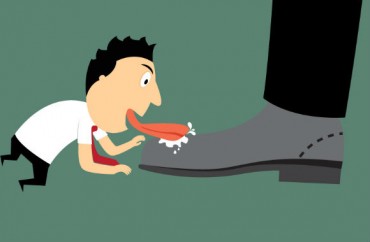 Following the whine fest by approximately 40 Emory University students over numerous pro-Donald Trump "chalkings" found across campus Sunday night, school president James W. Wagner issued the perfectly contrite response.
Referring to the gripes over seeing "Trump 2016" messages as a "mechanism for interaction," Wagner said "college campuses should encourage activism as a form of expression of concern that will ultimately better the community."
In a school-wide email, Wagner noted several steps by which to address the concerns of the activists. Among them are "regular and structured opportunities for difficult dialogues" and a "formal process to institutionalize identification, review and addressing of social justice opportunities and issues."
Uh huh.
The president also asked regarding the Trump graffiti: "Was it really just a message about a political preference, a candidate preference or was it a harsher message?"
"I will tell you," he said, "those who met with me were genuine in their concerns that it was the latter."
Of that there is no doubt.
Ultimately, Wagner said he thinks that Emory's Respect for Open Expression Policy, which states that Emory is "committed to an environment where the open expression of ideas and open, vigorous debate and speech are valued, promoted and encouraged," permits people to "feel as though they have safety in speaking up" and allows administrators to "feel comfortable responding to incidents and concerns like this."

College freshman Amanda Obando disagreed with [senior Alex] Reibman's view [of hate speech as free speech], saying that it dismissed the personal experiences of many who felt offended by the chalking.
RELATED: Emory University snowflakes 'in pain' after pro-Trump graffiti appears on campus
"My reaction to the chalking was one of fear," she said. "I told myself that it was a prank, and that the responsible individual was probably laughing in their room. I told myself that Emory would do something about it."

Obando felt concerned that no one other than the Latino community and its allies took definite steps to address the offensive implications that the chalkings held. "People still don't understand that the protest yesterday served not only as an expression against one interpretation of the chalking, but also as a collective manifestation against the fear that a bigot leader can create," she added.
Like President Wagner, Assistant Vice President for Community Suzanne Onorato truckled perfectly.
"As an administrator, I can say that we're not helping to alleviate that pain. They want to know why I'm not contacting them directly when these issues happen, why we're not reaching out to students, what we can do better."
If Mr. Trump becomes the GOP candidate for president, hopefully Emory will have a plethora of grief counselors standing by through (at least) November.
RELATED: Emory University Boots Chick-fil-A Off Campus
RELATED: Emory law student arrested in Egypt, accused of spying
Like The College Fix on Facebook / Follow us on Twitter
IMAGE: Artit Fongfung/Shutterstock