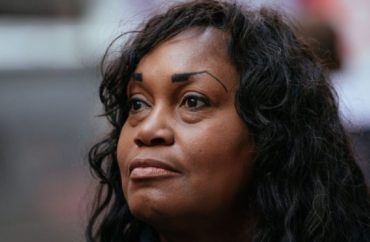 However, court ruled that no right exists to possess images of one's ancestors
Massachusetts' top court ruled that a Connecticut woman has grounds to sue Harvard University for emotional distress — but not for property rights violations — for possessing daguerreotypes depicting two enslaved people she claims as ancestors.
Tamara Lanier's lawsuit, initially filed in 2019, was dismissed in June 2021 by a lower court. However, Lanier sought a second opinion, and Judge Christopher K. Barry-Smith of the Middlesex County Superior Court revived the case last month, and Lanier [pictured] will proceed to trial at the State Supreme Court, The Harvard Crimson reported.
"The higher court's ruling put Lanier's case back into [the lower] Middlesex County Court, which held a hearing [April 13] on Harvard's motion to dismiss the remaining claims," New London, Conn. newspaper The Day reported on April 14. "After the hour-long session, Judge Barry-Smith denied the motion and asked attorneys for both parties to propose a schedule for trial."
The case concerns daguerrotypes, or pre-photographic recorded images, of slaves taken in partial and full undress that Harvard retains but Lanier claims she rightfully possesses.
Lanier also claimed that Harvard's continued possession and use of the images had caused her "emotional distress," according to the Crimson. Harvard's Peabody Museum of Archaeology and Ethnology holds the images.
Massachusetts Superior Court Judge Camille Sharrouf affirmed the dismissal of Lanier's 2019 suit in 2021. Though the court "conclude[d] that the alleged facts, taken as true, plausibly support claims for negligent and indeed reckless infliction of emotional distress," Judge Sharrouf dismissed Lanier's other claim of property rights to the images, according to the suit.
"A descendant of someone whose likeness is reproduced in a daguerreotype would not … inherit any property right to that daguerreotype," the court ruled. "Even in egregious circumstances like those described here, property transfers to private parties have not been ordered."
The Crimson reported that the court would have quickly dismissed her complaint if Lanier had restricted her suit to property charges.
"The case would be over. We wouldn't be here," Harvard's attorney Anton Metlitsky told the paper.
The College Fix could not reach the Peabody Museum for comment. The Fix also emailed Metlitsky, who referred The Fix to Rachael Dane, Harvard media spokesperson.
Nonetheless, "the court concluded the Norwich resident and her family can plausibly make a case for suffering 'negligent and indeed reckless infliction of emotional distress' from Harvard and remanded that part of their claim to the state Superior Court," WBUR reported in June 2022.
Lanier became distressed by seeing and learning about images of her alleged ancestors, according to the Crimson
Lanier first claimed she had found "some pleasure" in seeing the images of her purported relatives at a 2018 conference at Harvard, according to a March 2019 Crimson article.
"But then, when I measured that against the ugly stories about Louis Agassiz … I was very, very disappointed, and I felt solace in the fact that my mother had passed before she could have seen the image," she told the paper.
Two years later, she filed a complaint to be compensated by the university for "emotional distress, humiliation, anxiety, and other emotional pain and suffering."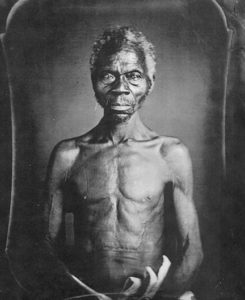 "In 1850, the Harvard professor Louis Agassiz arranged to have daguerreotypes made of Renty Taylor [pictured, left] and Delia Taylor, who were enslaved on a plantation in South Carolina," according to the 2021 Massachusetts Supreme Judicial Court ruling.
"Renty was ordered to disrobe. His daughter, Delia, was stripped naked to the waist. Their images were then captured in four daguerreotypes," the court document stated. "These daguerreotypes were later used by Agassiz in an academic publication to support polygenism, a pseudoscientific racist theory."
Polygenism was "a provocative scientific movement" that broke with Biblical tradition to claim the races did not possess a common ancestor, according to historian Terence Keel.
"Identifying herself as a descendant of Renty and Delia Taylor, the plaintiff, Tamara Lanier, contacted Harvard University seeking recognition of her ancestral connection to Renty and Delia and requesting information regarding Harvard's past and intended use of the daguerreotypes," the ruling stated. "When the university dismissed Lanier's claim of descent from Renty and Delia and ignored her requests … she brought this action against [Harvard]."
Harvard media spokesperson Rachael Dane and Harvard's President Emerita Drew Faust declined to comment to The Fix on why the Peabody displays the daguerreotypes and how Harvard plans to move forward from the outcome of the lawsuit.
Lanier's attorney, Benjamin Crump, who has represented Treyvon Martin, George Floyd, and Breonna Taylor, "argued that Lanier, rather than Harvard, should educate the public about the history of Renty and Delia," according to The Crimson.
MORE: Harvard student government sides with slave descendants in lawsuit against school
IMAGES: The University of North Carolina at Chapel Hill; Wikipedia
Like The College Fix on Facebook / Follow us on Twitter