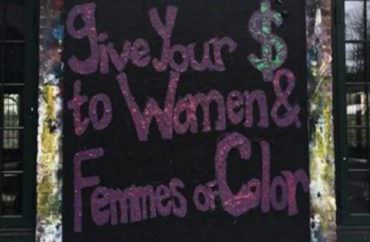 'please pay J—– and K—- for their labor, preferably over 30$. The community is watching you and holding you accountable'
Students at Sarah Lawrence College, a posh, private liberal arts college in New York consistently ranked one of the most expensive colleges in the nation, recently called on peers and others to pay female campus activists for their "emotional labor."
A Facebook post that went viral among the campus community listed 17 Venmo accounts belonging to Sarah Lawrence College students, most of whom were students of color.
It was posted once on March 26 on Facebook in honor of Women's History Month, then reposted in April as students exchanged heated words on Facebook over a campus controversy.
"In honor of Women's History Month, and the labor that women and femmes of color do for Sarah Lawrence every month of the year," the post states, then lists the student Venmo accounts. Venmo is a payment service app. The post, which includes a brightly colored poster declaring "Give your $ to Women & Femmes of Color," was inspired by the #GiveYourMoneyToWomen hashtag created by prominent feminists.
It became fierce fodder for students the second time it was posted as they debated on Facebook a student's release of her pet snake on campus. The student has claimed she was only given an hour by campus officials to get rid of the baby python, which she had purchased for therapeutic reasons. She told peers that, in a panic, she let it loose into the wilds of Sarah Lawrence near a student dorm by the North Lawn.
As word spread that a python was slithering around the school, it prompted students in droves to weigh in online on the controversy.
But then some students expressed anger that their peers appeared more upset about a python on the loose, as well as another controversy regarding a popular tree on campus slated for removal, than racism and alleged hate crimes at the school, which costs $65,550 annually in tuition and other fees.
"How about we talk about the systemic racism, poor treatment of laborers, sexual assaults, anti-Muslim hate crimes … ?" one student of color chimed in. A discussion about white students' lack of interest in problems facing minorities ensued.
One poster added: "The issue that people talked abt the snake+ tree extensively but completely ignored the hate crimes against black+ Muslim students earlier this year…there's a v clear issue in priorities here and it needs to be addressed?? No one's saying that everyone shd never talk abt the snake its just ridiculous that people can do that but can't be bothered to say a word abt the racism very present on campus."
This tenuous suggestion steadily gained traction despite the fact that Sarah Lawrence is known as a progressive, tolerant institution. For instance, last year the Princeton Review ranked Sarah Lawrence as the number one most LGBTQ friendly school in the nation. This year, during election season, one film professor let his class out early to attend the hoisting of a Black Lives Matter banner on campus.
But soon the Facebook thread descended into talk of paying peers.
A student reposted the "Give your $ to Women & Femmes of Color" in the snake thread, saying: "Also since W&FOC are still using our emotional labor to discuss this as nobody gives a shit about the systemic problems at this school, give your $$$."
Comments under that post got more heated, as two students in particular were tapped as deserving of payment for services rendered: "PAY THEM BOTH! SERIOUSLY EVERYONE PAY BOTH … NOW!"
The tone of the posts became increasingly fraught and the content progressively more vitriolic. One poster wrote:
"A— A———, you are a FUCKING. HORRIBLE. PERSON. BITCH. I DON'T CARE ABOUT YOU. AT ALL. GOOD. I HOPE U CRY INTO UR PILLOW AT NIGHT LIKE Y'ALL MAKE WOMEN DO EVERYDAY. I HOPE U QUESTION UR REALITY AND I HOPE U CHECK BEHIND U WHEN U WALK PLACES"
Finally, the same poster insisted: "please pay J—– and K—- for their labor, preferably over 30$. The community is watching you and holding you accountable."
Two other students were also tagged: "Pay up. Pay Money. Pay ur money. Ur money isn't urs. You're both assholes. Pay K—- and J— at least $30."
The incident became widely referred to at Sarah Lawrence as "#Snakegate," complete with memes. Eventually the topic steadily began to lose popularity among students. Rumors of the snake being sighted on campus persisted, but many agree it likely died out in the cold.
Campus officials declined to comment on the issue.
(Most of the thread may be seen here; The College Fix redacted names and faces.)
MORE: Citing racial strife, students at wealthy colleges demand reparations
MORE: Sarah Lawrence College students upset beloved cherry tree to be knocked down to make way for Barbara Walters Campus Center
Like The College Fix on Facebook / Follow us on Twitter
Like The College Fix on Facebook / Follow us on Twitter