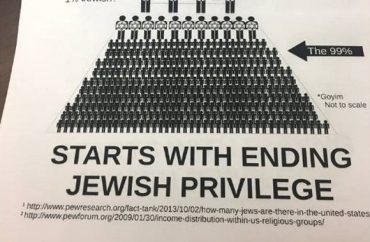 Fliers recently hung at the University of Illinois at Chicago declare "Ending White Privilege Starts With Ending Jewish Privilege."
The fliers use Pew Research Center data in an attempt to validate the statement, including that while Jews make up 2 percent of the population in the United States that "44% of these Jewish Americans are in the top 1%."
"Is the 1% straight, white men? Or is the 1% Jewish?" the flier questions.
The university acted swiftly, issuing a statement March 15, the same day the fliers were found on campus.
"Such actions do not reflect the values we hold as a community. Acts that invoke hatred or violence toward members of our community will not be tolerated on our campus," campus officials said.
"We strongly encourage all members of our university to exercise their right to free speech in a manner that recognizes these principles and avoids prejudice or stereotypes," they added.
Despite the campuswide statement, more anti-Semitic fliers were found posted on campus over the weekend. One discussed "Jewish privilege" with regard to "the special privilege when it comes to top universities." Another linked the de-hiring of Professor Steven Salaita with then-Chancellor Phyllis Wise's meeting with "a wealthy Jewish Donor in Chicago." A third criticized jail time for those who deny the Holocaust. Still another flier equated Auschwitz with Gaza, claiming the "largest Concentration Camp in the world today is owned and operated by Zionists."
While the fliers did not identify the student or organization responsible, they did include various hashtags: #BlackLivesMatter, #WeAreAllMuslims, #WhitePrivilege and #StandwithPalestine.
Student Eva Zeltser, who posted images of the fliers on Facebook, said her "heart is broken."
"While I try to abstain from writing personal narratives on Facebook, enough is enough," she stated. "If you are against hate crimes against one group, you should be against these acts of violence for ALL groups. Found all over the UIC campus. Things like these posters are actively posted to catalyze anti-Semitism and increase hate toward Jews."
The incident at the University of Illinois at Chicago comes as a strong uptick in anti-Semitic incidents on campuses nationwide has been observed.
UIC Levine Hillel Center's Executive Director Rabbi Seth Winberg condemned the posters in an email to The College Fix, noting they have caused anger and sadness.
The center asked the university to "conduct a full investigation and to address the campus culture that would allow such hateful targeting of Jews."
"We will not let these hateful flyers deter us from our work to build a vibrant community at UIC," Winberg added.
MORE: Peers SUPPORT student government rep. who called for 'punching a Zionist'
MORE: Left-wing attacks on Jewish students 'largely ignored': backer of anti-Semitism bill
Like The College Fix on Facebook / Follow us on Twitter