'We have the collective right to educated opinions,' University of Louisville scholar tells students
An English 101 class offered this semester at University of Louisville is focused on antiracism and forbids "disruptive language" and "disparaging commentary," according to its syllabus.
The syllabus for "Introduction to College Writing," subtitled "commemoration and public memory," begins by reminding students "2020 marks 157 years since the Emancipation Proclamation, and fewer for the years elapsed since Chattel slavery as an American institution was formally ended across the union."
The scholar teaching the class, graduate teaching assistant Kendyl Harmeling, continues by telling her students America is systemically and institutionally racist, and that the university was built on that legacy, which she acknowledges.
Similarly, on July 1, the Louisville Faculty Senate's Executive Committee released a "Statement of Solidarity."
"The Faculty Senate of the University of Louisville recognizes that systemic racism exists at the University of Louisville and throughout our society. We believe that faculty must be active in ensuring meaningful change on our campus for students, staff, and fellow faculty members," the statement reads.
"As faculty, we occupy spaces of privilege and influence. We have the opportunity and responsibility to lead our campus in acknowledging and identifying the policies, practices, and behaviors that reinforce inequality, particularly those that harm African Americans and other people of color."
The university also now boasts the Cardinal Anti-Racism Agenda, which it launched earlier in the summer. The agenda commits to making the campus "the nation's premier anti-racist metropolitan research university."
.@UofLPresNeeli today announced a goal for UofL to become the "premier anti-racist metropolitan research university in the country."

To achieve this, UofL has kicked off the Cardinal Anti-Racism Agenda, based on input from the community. Read more.⬇️https://t.co/AcXlkNmQbR

— University of Louisville (@uofl) July 28, 2020
"At this important moment in our nation's history, we pledge to take a stand against the systemic racism that continues to impact all of us, particularly our Black students, faculty and staff, and other stakeholders of color and from historically marginalized groups," the agenda reads.
As for Harmeling, she told her class she is focusing assignments on the topic of public memory and commemoration.
"Commemoration is an essential part of public memory; it shows who we valued and why we valued them. Statues, memorials, monuments, even city planning, are all giant rhetorical statements on our values, who is valued, why, and who is allowed to remember," Harmeling wrote in her syllabus, a copy of which was obtained by The College Fix.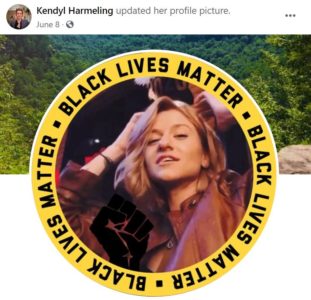 "It is essential that you are willing to challenge your own presumptions about these issues and remain open to other (and even opposing) perspectives."
However, a section titled "Ethical Participation" might prove difficult to that end.
Harmeling states "I will tolerate neither disruptive language nor disruptive behavior. Disruptive language includes, but is not limited to, violent and/or belligerent, insulting remarks, including sexist, racist, homophobic or anti-ethnic slurs, bigotry, and disparaging commentary, either spoken or written."
"While I do not disagree that you each have a right to your own opinions," Harmeling wrote, "inflammatory language founded in ignorance or hate is unacceptable and will be dealt with immediately. We have the collective right to educated opinions." (Emphasis in the original).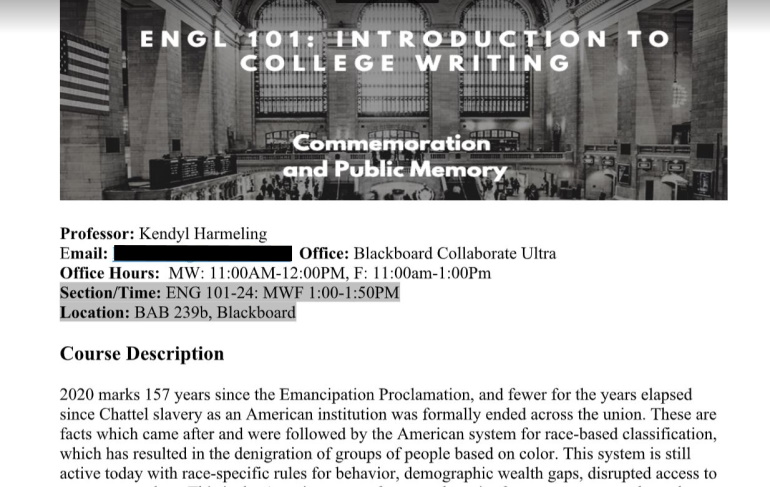 Harmeling also instructs students to "employ inclusive language, which shows that the writer honors the diversity of the human race by not using language that would universalize one element of humanity to the exclusion of others."
She asks students to use "men and women" or "people" rather than simply "man." Students are also asked to use "they" rather than "he/she."
The College Fix asked Harmeling via email to specify the type of language she forbids, but she did not respond to repeated requests for comment. She also did not say what the punishment would be for a violation of this policy.
The questions from The Fix focused mainly on the concept of the Overton Window, the range of acceptable discourse in a society. A large Overton Window would tolerate many diverse viewpoints no matter how offensive, while a small one will limit the number of opinions one can express. Harmeling did not expound on how large her course's window would be.
Louisville Executive Director of Communications John Karman told The Fix that terms such as "racist" and "sexist" are "not defined by the university, per se. Our policies related to discrimination and harassment guide the university in responding to statements or actions that are alleged to be sexist, racist, etc."
Those guidelines prohibit "unwelcome conduct that unreasonably interferes with an individual's work or academic performance, participation in a university sponsored activity, or that creates an intimidating or threatening environment."
Harmeling's syllabus comes weeks after Young America's Foundation publicized another syllabus from Iowa State University. In it, scholar Chloe Clark wrote: "you cannot choose any topic that takes at its base that one side doesn't deserve the same basic human rights as you do (ie: no arguments against gay marriage, abortion, Black Lives Matter, etc)." Clark was later told to amend her syllabus.
Harmeling made her views on race clear in her introduction to the syllabus. She criticized the "American system for race-based classification."
"This system," Harmeling writes, "is still active today with race-specific rules for behavior, demographic wealth gaps, disrupted access to resources, and on. This is the America some of us were born in, from our ancestors through indigeneity, through those who came here by choice, and those who came here by force."
The main list of assignments in Harmeling's course consists of three essays.
The prompt for the first essay asks the students to answer the question: "How do monuments and memorials help us heal from, or hide, our country's racial violence?"
In the second, students will propose "a monument or memorial that should be created." They will also explain why and where it should be erected.
Finally, the prompt for the third essay reads: "Take a stance on a problematic monument or memorial. Should it be taken down? Why or why not?"
MORE: Iowa State professor forbids students from criticizing BLM, gay marriage, abortion
IMAGE: Shutterstock
Like The College Fix on Facebook / Follow us on Twitter