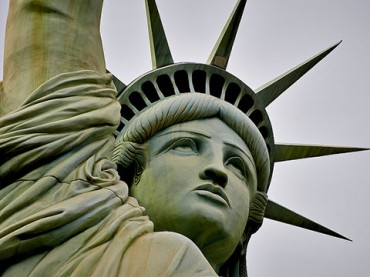 OPINION
A clear divide exists in the Republican Party and among conservatives, between social conservatism and growing libertarianism. Among the future of the party, college-age conservatives, the divide is shifting remarkably toward the libertarian side. Young conservatives in greater numbers are rejecting social policy positions in favor of fiscal policy ones, and gaining higher favor among their non-conservative peers.
As this trend continues, it's likely the future of the Republican Party will be focused away from social issues. This could be a blessing in disguise for hardline establishment Republicans.
The evidence is clear: Republicans who focus little on social policy tend to win elections.
Social issues have little merit for federal elections. The growing debt and the train wreck that is the Affordable Care Act are the issues people care about and are most pressing for the 114th Congress. Social issues bog down campaigns with unnecessary emotion that completely overshadows a conservative candidate's meaningful message about economic and personal liberty. Instead of providing fodder for late-night talk shows and 24-hour cable news to mock conservatives with, conservatives ought to refrain from the issue altogether.
It is a myth all young voters are liberal. According to a 2010 Pew Research survey, 68 percent of millennials describe themselves as either conservative or moderate, and a Rasmussen poll from January said that 76 percent of likely voters say the economy is very important in how they will vote in November. With the right message, conservatives can be competitive among millennials by showing young people they will be voting for a better future if they vote Republican. However, young people who ideologically align with Republicans in most ways will vote against their own interests solely based on emotion-laden social issues.
Sixty-eight percent of millennials – those born between 1981 and 1998 – support legalizing gay marriage, according to a Pew Research survey released March 5. (At the same time, 54 percent disapprove of the Affordable Care Act, equal to the number of baby boomers opposed to the law, according to a Pew survey from December.)
Many more young people would vote Republican if the message were focused away from social issues.
Republicans can seize upon this by changing the way they run their campaigns. Socially conservative Republicans do not need to lie about their beliefs, but they should not use social issues as a platform of their campaign. When asked about a hot-button social issue, they should simply say: "This is not relevant to the campaign. Next question."
The 2014 midterms are crucial for Republicans to halt the progressive agenda in President Obama's last two years, to get answers on Benghazi and to tackle the deficit. Republicans can take back the Senate if they nominate candidates who appeal to young and old and avoid divisive topics.
Clearly there is a generational gap on social issues, but on matters of the economy and government spending, voters are united. The good news for conservatives is fiscal policies are the primary issues that matter to the electorate and that young people in general support. Republicans have an opportunity to appeal to young people over the next several years, and bring them over to the conservative tent by focusing on low taxes, creating jobs and promoting personal liberty. A new wave of "Millennial Republicans" is possible if Republicans today focus their message on the conservative issues that appeal universally to all Americans.
As college students are beginning their summer jobs and cutting themselves off from politics, Republicans must work to tailor their midterm message away from social issues and focus on the message that Republicans believe in maximizing individual freedom.
Like The College Fix on Facebook / Follow us on Twitter
IMAGE: Jim Roberts/Flickr