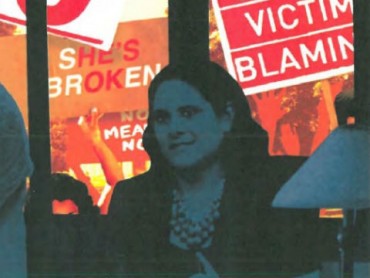 Magazine defamed Nicole Eramo 'in a slew of media appearances' as its story collapsed
A University of Virginia administrator filed a multimillion-dollar defamation lawsuit against Rolling Stone for its portrayal of her "as the chief villain" in the now-discredited December article "A Rape on Campus: A Brutal Assault and Struggle for Justice at UVA."
The story depicted the brutal gang rape of a freshman known as "Jackie" at a fraternity house on campus in fall 2012, where she claims she was violently assaulted by seven fraternity brothers the night of a house party.
Though the magazine eventually issued a full retraction of the story, it was too late to address the reputational harm to Associate Dean of Students Nicole Eramo.
Eramo's attorneys filed the suit Tuesday, stating the article's depiction of her was "categorically false."
The magazine claimed "both in the article and in a slew of media appearances" that Eramo "intentionally tried to coddle Jackie to persuade her not to report her rape; that she was indifferent to Jackie's allegations; that she discouraged Jackie from sharing her story with others; that she 'abuse[d]' Jackie; that she did 'nothing' in response to Jackie's allegations; that she claimed that UVA withholds rape statistics 'because nobody wants to send their daughter to the rape school'; that she did not report Jackie's alleged assault to the police; that she 'brushed off' Jackie; and that she actively sought to 'suppress' Jackie's supposed gang rape," the complaint states.
Eramo is seeking $7.5 million in compensatory damages and $3.5 million in punitive damages from Rolling Stone, its parent company Wenner Media and reporter Sabrina Rubin Erdely, who penned the story.
That request is based on claims that the magazine's statements about her "were not the result of an innocent mistake," and was done "with actual malice" that has caused serious damage to her reputation.
'Manipulated' photo shows how Rolling Stone tried to vilify Eramo
"As a woman who has dedicated her life to assisting victims of sexual assault and domestic abuse, Dean Eramo saw herself tarred in the national press as the chief architect of a conspiracy to suppress Jackie's assault in order to protect UVA's reputation," the suit said.
Eramo "received a wave of emails and letters from people across the country attacking her as among other things, 'evil,' a 'wretched rape apologist,' and a 'disgusting, worthless piece of trash,'" according to the suit.
The complaint says in contrast to Rolling Stone's portrayal, Eramo "has been widely lauded for her work as an advocate for victims of sexual assault at UVA and has earned a reputation as a tireless supporter of victims and of UVA students generally."
The suit further claims that Rolling Stone went to great lengths to hire an illustrator to alter an image of Eramo in a piece of graphic art highlighted in the article.
"A simple comparison of the original photograph and Rolling Stone's manipulated version of the image demonstrates the lengths Erdely and Rolling Stone were willing to go to portray Dean Eramo as a villain," the suit states.
Pursuing litigation was not Eramo's first move in seeking to repair her reputation.
According to the complaint, the magazine initially declined to "take remedial measures to repair the harm" to Eramo's reputation as she requested, on the grounds that the article was "well sourced and fact-checked."
The magazine still would not apologize to Eramo even after the Charlottesville Police Department concluded it couldn't confirm "to any substantive degree" the Rolling Stone account, nor after the article was labeled a "journalistic failure" by the Columbia University Graduate School of Journalism.
The suit also asserts the story follows a sensationalized pattern of reporting for Erdely, who has covered sexual assault throughout her career.
"[Jackie's] narrative fits Erdely's pattern and practice of using narrative journalism in which a shocking rape case is used as the vehicle to show that a given institution is indifferent to, or actively seeks to conceal, sexual assaults, just as she did in her 2011 and 2013 Rolling Stone articles 'The Catholic Church's Sex-Crime Files' and 'The Rape of Petty Officer Blumer'."
This shows a pattern of behavior by Erdely, who "was intent on writing a narrative that used a single, shocking rape case to depict a pervasive rape culture on a college campus and an administration that supposedly sought to cover up sexual assaults," the suit said.
College Fix reporter Julianne Stanford is a student at the University of Arizona.
Like The College Fix on Facebook / Follow us on Twitter