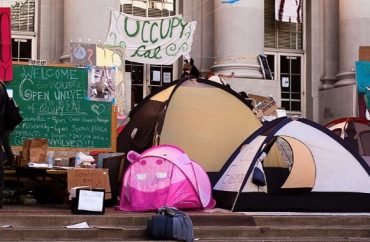 A new exit door has been installed near UC Berkeley Chancellor Nicholas Dirks' office in response to repeated sit-ins of the administration building, a back door that's been dubbed an "escape hatch" by some on campus.
The door was constructed late last month outside a short hallway between Dirks' conference room and his office in California Hall at a cost of $9,000, the Daily Californian campus newspaper reports.
Some students at the birthplace of the Free Speech Movement say they are angry over its installation, arguing that between the back door and the fence recently built around the chancellor's campus residence that "it's clear that administrators on this campus operate in a near-constant state of fear of its students," the Daily Cal noted in a staff editorial.
"Protests on this campus are commonplace, and they frequently occur around the chancellor's office and residence. We acknowledge the chancellor's right to safety and security, but we fear that many of these 'safety' measures are coming at the expense of accessibility to students and faculty," the editorial continued.
MORE: Berkeley students 'black brunch' protests
MORE: Black grad students hijack Berkeley event
But in a telephone interview with The College Fix, Dan Mogulof, UC Berkeley's executive director for communications and public affairs, said the chancellor
"didn't ask for this to be built."
"He was not actually aware that it was being built," Mogulof said. "This came about in response to staff concerns after a number of occupations of that particular floor of the administration building. And our police department thought it would be beneficial just to have one extra door, which is all that it is, that will provide staff, if need be in the future, another way of getting out of the building."
"There was really only one way out," Mogulof added. "The police thought it would be a good idea and it was really in response to staff concerns."
Associated Students of the University of California Senator-elect Chris Yamas told The Daily Californian no one has ever been physically harmed in a sit-in over the years.
"There has to be other ways to handle student concerns and protests than simply building ways to avoid them," Yamas said. "The chancellor seems elitist and out of touch and inaccessible to the students."
The UC Berkeley police could not be reached by The College Fix for comment Tuesday on the door's installation.
MORE: Berkeley protester lunges at CEO because he's rich
MORE: Berkeley protesters crash Dirks' office with disco, cake
Like The College Fix on Facebook / Follow us on Twitter
IMAGE: Cloud 2013/ Flickr Creative Commons