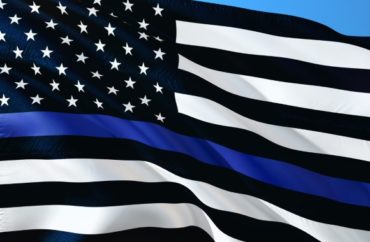 Campus official: 'does not speak for all UC Davis students'
The Ethnic and Cultural Affairs Commission, a branch of the student government at UC Davis, has come under fire for protesting a photo of Davis, Calif., police officer Natalie Corona waving a Thin Blue Line flag.
The photo was posted in October 2016 on Corona's Facebook page with the note: "I would like this photograph to serve as my gratitude for all those law enforcement men and women who have served, who are currently serving, and those who have died in the line of duty protecting our liberties in this great country."
On Jan. 10, the 22-year-old police officer was murdered by a gunman in the line of duty. The two-year-old photo of her holding the Thin Blue Line flag then went viral, prompting the UC Davis student government's ethnic affairs committee to condemn it as "anti-Black and disrespectful" on Facebook.
In their now-deleted post, the commission stated some students were "triggered" by the site of the photo of Corona holding the flag.
"Flashing lights, sirens, and increased police presence can be triggering to many Black and Brown people," the group added.
"… The flag has also been used by the alt-right, and is often seen side by side with the confederate flag," the statement continued, calling it "blatantly anti-Black and disrespectful."
The statement set off a firestorm of controversy.
"The university's social media pages have been inundated with messages of outrage from citizens and law enforcement officers from around the nation," reports Todd Starnes of Fox News.
The Ethnic and Cultural Affairs Commission did not respond to a request for comment Tuesday from The College Fix asking why they deleted their original post and if they regret their statement.
In an email interview Tuesday with The College Fix, UC Davis' Director of News and Media Relations Melissa Lutz Blouin emphasized that the post "does not speak for all UC Davis students" and that it is also "not representative of UC Davis."
"UC Davis strongly supports and values law enforcement," she added. "We are grateful for those who serve and protect the public at any cost."
"We mourn the loss of City of Davis Police Officer Natalie Corona and honor her dedication to protecting our community. This is a difficult time for all of us, as we are deeply connected to the City of Davis and share in grieving this incredible young woman."
Blouin stated commission members had the right to make their controversial statement, however, and that they did not violate any policy and will not face any discipline.
While the ethnic commission's post has been deleted, it was preserved by screenshots and posted by the UC Davis student government President Michael Gofman on his Facebook page, where he denounced the commission's stance.
"I wholeheartedly condemn the Ethnic and Cultural Affairs commission for this disgusting post, and urge them to take it down and issue an apology," he wrote Jan. 11, one day after Corona was gunned down.
Additionally, he rebuked the group's condemnation of the flag, writing "the thin blue line flag in question which has been shared repeatedly in posts held by Officer Natalie Corona is used by the law enforcement community as a memorial symbol to honor the fallen."
"It's easy to sit on the third floor of the Memorial Union when there are at least 100 brave men and women in blue between you and the shooter," he wrote. "… I am ashamed that some of these same people, protected by the very officers that they are condemning, have the audacity to politicize the loss of a young officer. Her only crime was being a police officer."
According to the ethnic commission's website, its "goal is to represent historically marginalized groups who face barriers in terms of institutionalized, internalized, and systemic oppression."
The student government as a whole also put out a statement on Facebook, sending its "deepest condolences" to Corona's family and the Davis Police Department. It also addressed the controversy, saying the commission acted within its rights to release the statement but it does not speak for the entire student government.
"Here at the University of California, Davis, we strive to foster an environment of free speech," the group stated. "However, we request that it be done respectfully and that all repercussions are considered before establishing a stance. We ask our bodies to understand that statements made can put to question the integrity of the Association and all parties involved."
MORE: University to erect monument honoring anti-police protest
IMAGE: Borka Kiss / Shutterstock
Like The College Fix on Facebook / Follow us on Twitter