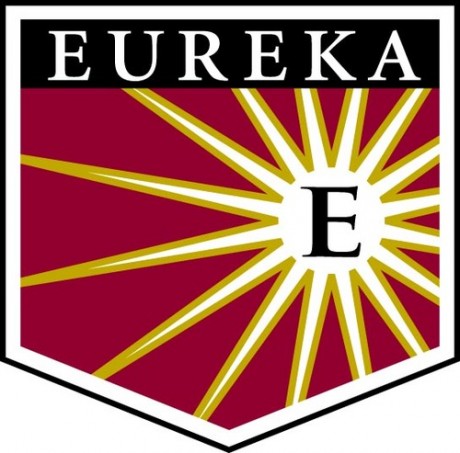 Eureka College senior quarterback Sam Durley went into the inaugural Abraham Lincoln Bowl at Knox College with hopes of returning home with a win to start off the season. After a 62-55 offensive slugfest, he came home not only with the trophy awarded to the winning team, but also a few things that he didn't exactly expect–the all-time NCAA single-game passing record and some new found fame to go along with it.
During the game, Durley steadily racked up yards as he led the Red Devils in the exciting comeback to claim the title. Knox scored three minutes into the first quarter and held on to the lead until, with 20 seconds remaining in the game, Durley connected with junior wide receiver Jake Bane for the game winning touchdown.
It wasn't until after the game that Durley learned how many yards he had thrown: a record-breaking 736. He also had five touchdowns and completed 34/52 passes. Eureka senior guard of the basketball team –turned wide receiver Jordan Kindred showcased his astounding athleticism as he caught 13 of Durley's passes and recorded 235 yards in his first game of organized football of his life. Bane contributed 203 yards and three touchdowns.
Durley considers the incredible performance a team accomplishment and is quick to credit everyone around him who participated.
"The receivers are the ones that made the catches and turned short routes into big gains. The coaches put the offense in my hands and showed that they trusted me," Durley said.
"The offensive line is 10 times more improved than they were last year and they didn't let me get touched in the entire second half. They did their job and allowed it all to happen," he added.
In addition to breaking six school records, Durley out-threw fellow Division III quarterback Zamir Amin of Meno College who threw for 731 yards in 2000. Durley's 736 made him the new single-game passing yards leader in all NCAA divisions.
Once the news of Durley's record began to spread, speculation grew across campus and among Durley's friends and family that he would attract national attention. That evening their excitement elevated to pure euphoria when the news was broadcasted across ESPN's score ticker and the record was featured as number two on Sportscenter's nightly top plays. It was also that night that Eureka College Sports Information Director Bryan Moore informed Durley that national news and sports outlets such as ESPN, USA Today, and Sportsnation Radio were requesting interviews with the new NCAA-record holder.
On Sunday, the Eureka College community as well as Durley's nearby hometown Roanoke, IL watched with pride as their quarterback was interviewed live on Sportscenter. On Monday, the interviews continued. Among the most prominent were interviews with former NFL star running back and Heisman trophy winner Eddie George on Sirius XM College Football Today and USA Today.
On Twitter, Durley's accomplishments were mentioned from the likes of Sports Illustrated, Fox Sports and famous sports and college football personalities such as Lou Holtz, Adam Schefter and Bonnie Bernstein.
Durley has been contacted by agents who will be tracking his progress throughout the season and will be looking to enter him in combines for various professional leagues such as arena, the Canadian Football League and the pinnacle of the entire sport, the National Football League. The buzz has also given Durley's small liberal arts college of 800 students, the Eureka College Athletic Department and the football team, itself, well earned positive publicity.
Despite all of the attention, Durley says he is just looking forward to focusing on his academics and enjoying his last collegiate season, but he is cognizant of some of the consequences of his unexpected fame.
"We kind of have targets on our back the rest of the way so it is going to be important that we stay focused and we're going to do a good job of that," said Durley.
Durley has handled his new NCAA-record setting status with personal class and pride in his team. The Eureka College football program doesn't normally make national headlines (although president Ronald Reagan did play for the team in the late 1920's). With Sam Durley leading the team, the Red Devils will undoubtedly attract a few extra sets of eyeballs for the rest of the season.
Fix Contributor Blake Baxter is a student at Eureka College.
Click here to Like The College Fix on Facebook.