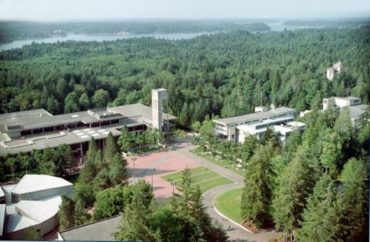 The president of the embattled Evergreen State College — where racial unrest last spring thrust the small Washington campus into the national spotlight — is predicting that the public institution will see a nearly 20 percent drop in student enrollment come fall.
President George Bridges has told the campus community that the school's 3,800 student population is predicted to hover at about 3,100 when the 2018-19 school year begins. This 700-student loss represents an 18.5 percent decrease.
This estimate sent shock waves among faculty, and some speculate it spurred an anonymous call for Bridges' resignation by way of flyers recently inserted into faculty mailboxes declaring "Please Resign," among other disparaging comments.
The Olympia, Washington-based school already was hit with a 5 percent enrollment decrease when it started this current 2017-18 school year.
An official with Evergreen State who agreed to an interview with The College Fix on the condition of anonymity emphasized that Bridges' estimated enrollment numbers are "for the purposes of planning" and a "projection that will not get better only if nothing is done to change it." He likened it to a "worst-case scenario."
This "Mizzou Effect" is a known factor among college leaders, and the official said Evergreen has been in contact with University of Missouri to learn from their experience.
But the notion that the decline in enrollment is entirely related to last year's racial protests, or a festering dominant leftist "heterodox bubble" at the college, is not altogether fair or accurate, he said.
"Beneath the surface, there's far more variety of opinion at the college than we give ourselves credit for," he said.
In the end, he said, the enrollment decrease will likely plateau and the college will in the coming years grow its ranks again. What's more, he added, campus leaders' data show that the enrollment drop at Evergreen is consistent with what comparable campuses in the state are currently grappling with.
With that in mind, he said, Evergreen is "doubling down on efforts to recruit older, non traditional students, as opposed to straight from high school." This demographic includes adults outside of traditional college age, as well as returning-to-college students. To that end, Evergreen officials have developed a mass marketing campaign expected to be launched soon to target potential adult students within a multi-county region.
When asked what could have been done differently last spring, the official deflected.
"That's an interesting question, but we are not looking to Monday morning quarterback the past, and the decisions made in the moment. Moving forward is important," he said.
"Other institutions have had events like this in the past, and enrollment has spiked down and come back up," he added. "I'm not happy about that, but I'm not panicked. We need to focus on the mission of the college, serving the students we have now, and fixing up the curriculum to serve the needs of the students who are coming at us."
Not everyone is so optimistic.
"There's been no conversation at all this year after last May's debacle," said political economy professor emeritus Alan Nasser in a Feb. 13 email to The College Fix.
"A lot of people might have come to their senses, may be burned out, embarrassed in retrospect, etc. And they'd like to forget it and not resurrect the conditions for more mayhem. Time will tell whether lessons have been learned."
Former provost, outspoken critic of the current Evergreen administration, and noted advocate for free speech Michael Zimmerman offered a more direct view of the current problems facing Evergreen.
"The enrollment crisis at Evergreen, and make no mistake about it, it is a crisis, will not be fixed until the actions of last spring are acknowledged and their underlying causes addressed," Zimmerman told The College Fix via email. "To pretend that students fleeing Evergreen is simply a function of the economy or because of bad press generated by the far right is both misleading and counter-productive."
"A fix, if even possible after the damage already done, will come only be returning Evergreen to its roots as a college steeped in the concept of open inquiry inherent in a true liberal arts education," he said.
MORE: Evergreen State to replace controversial anti-white 'Day of Absence'
Like The College Fix on Facebook / Follow us on Twitter