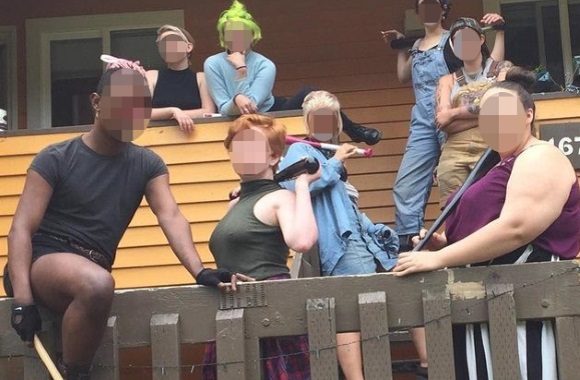 Transgender posse triggered by Limp Bizkit
Pro-Donald Trump activists used a cartoon frog to promote his campaign for some unknown reason.
Now an Evergreen State College freshman is using a much-mocked rap-rock band, whose heyday was 20 years ago, to question the mob environment his vigilante peers have created on the small, taxpayer-funded, liberal arts campus.
Heat Street chronicles the "apolitical" activism of "Nolan" and his run-ins with social justice warriors wielding bats and makeshift weapons that include water bottles and their hands.
He chalks messages such as "Make Limp Bizkit Great Again" and "we want to learn" on the ground and outside walls around campus.
In one run-in caught on video by Nolan's associate, he's chalking over an earlier message calling for the firing of white professor Bret Weinstein with his own – "Limp Bizkit did nothing wrong" – when activists confront him.
One of the lurkers – none of whom appears to be cisgender – screams at him for no apparent reason, then they walk away, telling Nolan "fuck you!" Either Nolan or his associate who is recording replies, "You should open for Limp Bizkit!" A lurker yells back something that sounds like, "you can kiss this fine curvy ass, bitch!"
"May I? Is that a consensual offer?" he responds.
The activists return as Nolan continues chalking, dumping water on his head, erasing his chalking and menacingly advancing on him so he has to leave his chalk wall. "My body, my chalk," Nolan deadpans. They hover over him as he tries to chalk on a different wall. "Get the fuck out of here. Fucking leave!" one whines.
MORE: Evergreen asks student vigilantes to stop patrolling with bats
"What do you have against [Limp Bizkit frontman] Fred Durst? He did nothing to you!" Nolan replies. That's when they surround and physically manhandle Nolan, taking his glasses off his face and throwing them on the sidewalk.
When they finally leave, Nolan yells out "Have a good day, y'all!" He never fights back during the nearly 4-minute video. As the activists leave, it sounds like one of them suggests killing Nolan.
"Whoa!" he yells out, hearing the threat. "I love you too. We can hug it out. Let's be progressive about it here, people!"
Some of the same activists make a reappearance in a later video, following Nolan and his friends. They physically attack his group and then make the false claim that it's illegal for Nolan's crew to record their assault. "This is [a] public campus," Nolan's friend Andrew, who is visiting from out of town, says calmly as they attack him again.
Nolan told Heat Street he wanted to "prove these guys aren't here to have a discussion, they are here to violently bully the campus into submission," and he didn't fight back because as a white male, he would have been blamed.

Heat Street concludes:
Evergreen is under mob rule by baseball bat-wielding, dyed-haired, gender studies majors who get triggered by Limp Bizkit. And the villains, according to this mob, are white liberal college professors and a teenager with chalk.
MORE: State legislators sponsor bills to defund Evergreen State
Like The College Fix on Facebook / Follow us on Twitter
IMAGE: Digitally altered by The College Fix