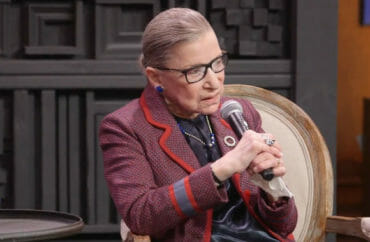 No other current Supreme Court justice has an affectionate initialism. No other has dominated pop culture since the sudden passing of Antonin Scalia.
And no other has, surprisingly, challenged a totem of progressive orthodoxy like Ruth Bader Ginsburg.
A month ahead of her 85th birthday, the veteran justice brought it upon herself to highlight the unjust treatment of accused students on college campuses when asked about the #MeToo movement.
In a wide-ranging interview with The Atlantic, Ginsburg was asked about "due process for the accused" in the context of workplace allegations against powerful men. She quickly pivoted away from the workplace:
Well, that must not be ignored and it goes beyond sexual harassment. The person who is accused has a right to defend herself or himself, and we certainly should not lose sight of that. Recognizing that these are complaints that should be heard. There's been criticism of some college codes of conduct for not giving the accused person a fair opportunity to be heard, and that's one of the basic tenets of our system, as you know, everyone deserves a fair hearing.
She said criticism of these college codes that govern sexual misconduct – often separate from codes that govern all other student misconduct – are "valid," and due process can't fall by the wayside in the pursuit of "gender equality":
It's not one or the other. It's both. We have a system of justice where people who are accused get due process, so it's just applying to this field what we have applied generally.
If RBG extends this basic feature of the legal system to the less formal and purportedly educational disciplinary process on any given campus – not just public schools – it's safe to assume a majority of the high court does too.
This runs counter to a common line from victim-rights groups and some Title IX professionals that the courts have no business telling colleges how to run Title IX proceedings, since their purpose isn't fundamentally determining the merit of accusations but preventing a hostile educational environment for accusers. "Believe the victim" is intended to create sham tribunals.
Robby Soave at Reason was bowled over by Ginsburg's pivot to campus:
Note that Ginsburg was asked about due process, but not campuses specifically. The fact that she immediately suggested college codes of conduct as an example of a policy that sometimes violates "the basic tenets of our system," says a great deal about the glaring unfairness of the modern approach to Title IX, the federal statute that requires universities to investigate sexual harassment and assault. And Ginsburg didn't just make note of the controversy; she explicitly said critics of the current procedures have a point. …

If a campus sexual misconduct case adjudicated under the deficient standards ever made it all the way to the Supreme Court, it certainly sounds like Ginsburg would question whether the accused was given a meaningful opportunity to defend himself.
Read Ginsburg's interview and Soave's analysis.
MORE: Courts aren't the best place to deal with Title IX overreach?
IMAGE: PBS Newshour/YouTube
Like The College Fix on Facebook / Follow us on Twitter