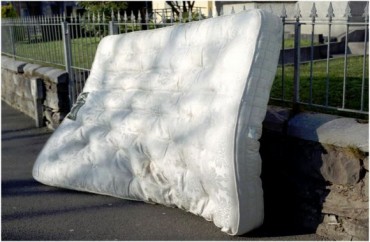 Paul Nungesser won't quit.
The Columbia graduate is suing his alma mater again — over the fact the school continued to permit "Mattress Girl" Emma Sulkowicz to lug around her mattress despite him being cleared of charges that he raped her.
Nungesser's first lawsuit for "gender-based harassment" was dismissed earlier this year. The judge, however, had left open the possibility of a future attempt.
This bid will say that "Columbia violated Title IX" since "the school discriminated against him by permitting Sulkowicz to protest and by taking other actions that created a 'hostile environment.'"
The new lawsuit contains additional allegations, including claims that the school's current policy regarding gender-based misconduct excludes the possibility of male victims and female perpetrators. Sulkowicz, it said, victimized Nungesser by attempting to get him expelled despite his innocence.

The lawsuit also adds two faculty members as defendants, arguing they supported Sulkowicz's artwork and protests naming Nungesser as a rapist. Sulkowicz is not named as a defendant.
RELATED: Columbia files motion to dismiss 'Mattress Girl' target Paul Nungesser's lawsuit
Columbia, its president Lee Bollinger and Sulkowicz's thesis adviser remain defendants in the case.

A Columbia spokesman declined to comment on Monday.

In a statement, Nungesser's parents said they had heard from friends, relatives and even strangers across the country who said they "wish that Paul eventually finds justice."
The College Fix's Greg Piper details the difficult road Mr. Nungesser faces considering Judge Gregory Woods' rationales in the first (dismissed) suit.
Read the full Reuters article.
RELATED: Another rape allegation against Columbia's Nungesser, from a 'queer and black' male
RELATED: Title IX has nothing to do with sexual behavior, judge rules in 'Mattress Girl' case
IMAGE: Lucas Shaw/Flickr
Like The College Fix on Facebook / Follow us on Twitter