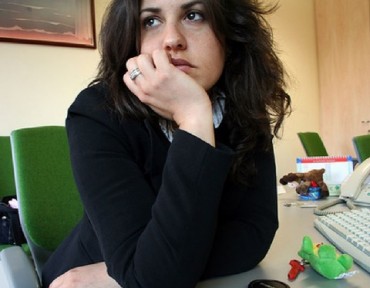 Freshly minted graduates with degrees in political science or literature may soon be asking: "Do you want that grande latte hot or iced," according to the results of a new survey.
Nearly half of recent college grads say their jobs are beneath their skill level, with 49 percent of 2013 and 2014 college graduates reporting underemployed, a recent Accenture employment survey released this month found.
The survey results underscore a 2014 New York Federal Reserve report that unemployment rates for recent college graduates have been quite high since the onset of the Great Recession, and that while grads typically need time to transition into the workforce, college grads of late face that transition at a much higher pace.
Underemployment means doing work that does not make full use of skills and abilities. While underemployment is not included when calculating nationwide unemployment figures, it is a prevalent problem for recent college grads, who consider the status demeaning and discouraging.
"It's very demoralizing to have worked so hard to finish my degree … and then to be making less than $20,000 a year at this point in my life, it's very upsetting to me," Christian Ailor, who works two part-time jobs, told the New Pittsburgh Courier.
Ailor, 27, graduated with a political science degree from the University of Pittsburgh in 2013.
The Accenture survey polled 1,011 students who graduated in 2013 and 2014. Those questioned reported high levels of job dissatisfaction, lack of mobility and underemployment. Meanwhile, more and more
graduates consider themselves underemployed, from 34 percent in 2001 to 49 percent respondents in 2014, the survey found.
Underscoring that, the National Center for Education Statistics reported that nearly 19 million students are expected to graduate from 4-year colleges during 2010 and 2020. However, only 8.5 million job openings during that same time period require a bachelor's degree, according to the Bureau of Labor Statistics.
With that, job shortages for those with bachelor degrees force many college graduates to take jobs that do not even require a high school diploma, let alone an expensive college degree.
"What I see is more proof that we have oversold higher education," according to George Leef, director of research for the John William Pope Center for Higher Education Policy, in response to the survey results.
As if on cue, this year's Accenture research found that students are increasingly turning to reasonably priced two-year colleges to launch their higher education. Thirty-four percent of 2015 graduates, up from 18 percent in 2013, responded that they begun their studies at a two-year college before enrolling in a 4-year degree program.
Vocational and technical schools have also reported growth since 2009 because of their stable career outlook and lower price tag.
Betty Krump, executive director of the American Technical Education Association, told CNBC that the success of technical school graduates will quell the notion that vocational schools "are for dumb kids." As focus on educational value increases, vocational and technical schools will increasingly become attractive options.
Despite all this, eight in ten 2015 grads this year told Accenture they are confident about their future and feel prepared for the workforce. The survey polled 1,002 students graduating in 2015.
However, their expectations may not meet reality.
"After the Great Recession, for example, the unemployment rate for college graduates as a whole peaked at around 5 percent in 2010, while the unemployment rate for recent college graduates peaked at around 7 percent," the New York Federal Reserve reports. "For the period 1990 through the first quarter of 2013, the unemployment rate averaged 4.3 percent for recent college graduates compared with 2.9 percent for all college graduates."
"These results suggest that finding a job tends to be more difficult for those just out of school than for those who have been out of school longer."
Accenture did not respond to a request from The College Fix for comment.
College Fix reporter Kate Hardiman is a student at the University of Notre Dame.
Like The College Fix on Facebook / Follow us on Twitter