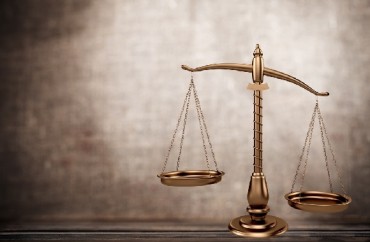 A 19-year-old San Diego State University student expelled over sexual assault allegations has filed suit, claiming the sex with his female accuser was consensual and that campus officials dismissed polygraph results that supported his side of the story.
The male student, referred to as John Doe in court documents, was expelled in November 2015 and filed the lawsuit the following month. A hearing on the matter is set for June.
At the crux of the he-said, she-said is an edible marijuana called a "Black Bar," which contains high doses of concentrated THC oil. The accuser, called Jane Roe in court documents, claims that once it started to kick in she felt sick and tried to stop the previously consensual intercourse, but that Doe was insistent so she went along with the hookup until she could leave.
Doe, for his part, said the sex occurred right after they ate the substance and was over before it could have any psychoactive effect.
San Diego State University declined to comment to The College Fix on ongoing litigation.
'Able to clearly and coherently communicate'
According to a copy of the lawsuit purchased by The College Fix through the San Diego County courts, Doe's attorney alleges campus officials disregarded evidence tending to show Roe was not yet under the influence of the edible marijuana while engaging in consensual intercourse.
"Although Ms. Roe claimed to be incapacitated while engaged in consensual sex, evidence of Ms. Roe's text messages and phone conversation with her friend … were presented, showing that she was able to clearly and coherently communicate with others during the pertinent time period, undermining her claim," court documents state. "Furthermore, when Ms. Roe was confronted with evidence of phone records tending to contradict her timeline of events of the night of the incident, Ms. Roe materially changed the details of her allegations to comport with the phone records."
And Doe wrote to campus officials that Roe had "ingested the edible at 9:50 p.m. and all sexual activity was over by 10:17 p.m. when she started texting her friend."
"[Roe] could not have been incapacitated within the time of the sexual activity, and, in any case, she texted, spoke with her friend, and then walked normally out of the apartment down to where her friend was waiting on the street," he wrote, adding she "changed her story from 50 minutes of sexual activity to 30 minutes, based on the phone records she finally turned over the day before the hearing."
Doe's and Roe's versions of events of the night the alleged assault took place on April 18, 2015, are vastly different. They both agree, however, that Roe came over that night with the express purpose of engaging in sexual intercourse, according to court documents.
'Just laid there and let him do his thing'
But Roe claims that about 20 minutes after they began to have sex, she began to feel ill. She stated that she was coherent, but could not move and did not feel well. Roe stated that Doe had trouble sustaining an erection, but "kept trying." Then she said she told him she "she needed a break" and to get off of her. Roe claims Doe replied, "No, there's no breaks. We're not finished until I'm finished." Roe adds she was feeling spacey, was getting nauseous, and her body was feeling weaker. She told campus officials she thought if she "just laid there and let him do his thing, it would be over." She added she was not aroused and the penetration into her vagina was very painful, court documents state.
Later that night, after Roe's friend had picked her up, her friend asked her if she wanted to go to the hospital, as they were concerned about the substance she had taken. Her friend told campus officials she asked Roe if Doe had raped her, and Roe replied "she was not sure, but was 'very uncomfortable with what had happened.'" She later filed a sexual assault complaint with campus officials, however.
As for Doe, he says Roe might have been jealous that he hung out with another girl earlier, and that he had been warned by others in their peer group she was somewhat emotionally unstable. But they had been acquaintances since the fall 2014 semester and had had sex one time before the night in question, court documents state.
He also denies Roe ever told him to stop, and even claims she gave him oral sex at the culmination of their encounter. Roe counters that she offered to perform oral sex "in order to avoid the pain of penetration," according to the lawsuit.
RELATED: Female student straddles guy without his consent, he gets suspended for rape
RELATED: Father speaks out after college-athlete son cleared of rape: 'How many young men have to have their lives destroyed?'
Never said she wanted to stop
Doe allegedly lied to campus officials about providing Roe with edible marijuana, initially claiming he had no knowledge of such a drug. When officials presented him with text message evidence to the contrary, they claimed he confessed to giving her the drugs. Ultimately that led them to believe Roe over Doe, they state.
But Doe's attorney points out that at the disciplinary hearing, a polygraph examination presented as evidence shows Doe likely answered relevant questions truthfully, and in particular that Roe never said she needed a break from sex, never said she needed to pause, and never said she wanted to stop.
The lawsuit also alleges Doe's due process rights were violated by a shoddy and haphazard hearing process. It adds the university is under pressure from the federal government to show it's taking Title IX complaints regarding sexual assault seriously.
For context, Doe's brief cites the 2011 "Dear Colleagues Letter" sent by the Department of Education Office of Civil Rights to public and private universities across the country, threatening to withhold funding if certain standards for sexual misconduct procedures were not met. Most importantly, the letter recommended changing the burden of proof for conviction of sexual misconduct from the standard used in criminal courts – beyond a reasonable doubt – to a lower "more likely than not" standard.
RELATED: Rape accusers sue University of Tennessee for giving accused students due process
RELATED: Connecticut turns most campus sex into rape with 'affirmative consent' law
Like The College Fix on Facebook / Follow us on Twitter