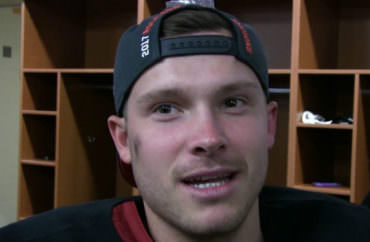 Judge says 'details' attributed to girlfriend are hard to ignore
Matt Boermeester went to court to stop the University of Southern California from expelling him on domestic-violence charges that his girlfriend denies. He won a temporary reprieve last fall.
But it probably won't last.
Los Angeles County Superior Court Judge Amy Hogue told the former football player in court Wednesday she was "leaning toward denying" his petition for reinstatement to the private university, saying his girlfriend's alleged initial testimony can't be swept aside, City News Service reports.
Zoe Katz hired a lawyer to fight USC's allegations that she ever accused Boermeester of violence, and claimed the school threatened her when she continued to deny he was violent toward her.
MORE: USC threatened me for saying Boermeester didn't beat me up, Katz says
But those alleged comments she made to a Title IX investigator can't be "thrown into the wastebasket," Judge Hogue said:
The judge noted that Katz told the interviewer the day after the confrontation that Boermeester put his hands around her neck and shoved her against a wall. Katz's denials of any abuse did not come until months later, Hogue said.
"It's very difficult for me to believe some investigator made up these statements when the details were so clear," Hogue said.
Boermeester's lawyer maintains that Katz "never complained to anyone" – her roughhousing with Boermeester was spotted by a neighbor and called in as domestic violence – and that a surveillance video exonerates his client.
Hogue disagreed with that assessment, however, saying there was "some evidence of abuse on the images" and that Boermeester was drinking "quite heavily" that night, according to the report.
The judge said she'll issue a final ruling Friday.
Boermeester's case was cited by Education Secretary Betsy DeVos* when she rescinded Obama administration guidance on Title IX enforcement, saying his case and others proved that it created a "failed system."
MORE: Judge blocks expulsion of USC athlete for violence his girlfriend denies
MORE: Boermeester says USC is hiding surveillance video that exonerates him
IMAGE: Gary George/YouTube
Like The College Fix on Facebook / Follow us on Twitter