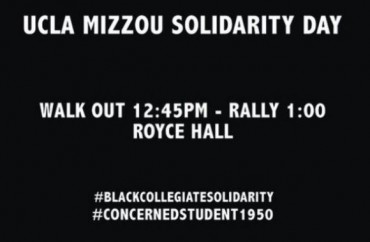 I watched Thursday afternoon as scores of my peers exited classrooms at UCLA to take part in a "walk-out" in support of black students and others across the nation protesting their "racist, oppressive" universities.
The Facebook page that had organized the Bruin protest listed several causes for the demonstration, including "racism (particularly against Black people), class oppression through student debt, and the unfair treatment and impoverishment of campus workers."
Soon a crowd of several hundred students swelled in the middle of the quad, many with signs declaring "solidarity with Mizzou." A large banner with images of the black youths killed in recent controversial police incidents was hoisted above the throng. Members of socialist groups passed out The Sparticist newspaper to students willing to take them.
Afrikan Student Union leaders first led the crowd in chants, including "Bring down Babylon. Black students are the bomb." In addition to chants, students were encouraged to raise their fists.
Between chanting sessions, several speakers address the crowd via megaphone.
One of the speakers, a professor at the university, stated that the recent creation of a diversity vice chancellor at UCLA was not enough. He said he believes UCLA needs a "dean of white supremacy and black hate." I could only surmise he meant to imply that the dean was needed to specifically combat white supremacy and black hate.
He went on the say that the larger problem is connected to black labor and capitalism as an oppressive system.
Another speaker, a graduate student at UCLA, told the crowd that black Africans are the "alpha and the omega." He said that all of civilization was birthed out of Africa, and black students should use this fact as a source of strength and black power.
A second professor, who mentioned she held a position of leadership in the academic senate, reiterated past comments and added that one day she hopes to "see a classroom that looks like this," as she gestured to the gathered group of protesters, nearly all of whom were students of color.
There were other speeches as well.
#BlackLivesMatter #BlackBruins #SolidarityWithMizzou pic.twitter.com/lOJr5u4UAQ

— Michael Bae (@aymanbahta) November 12, 2015
Finally, another graduate student connected the current situation at the University of Missouri not only to racial tensions at UCLA – but also to those of South Africa. He then stated all of the places were part of a "shared experience."
Like The College Fix on Facebook / Follow us on Twitter