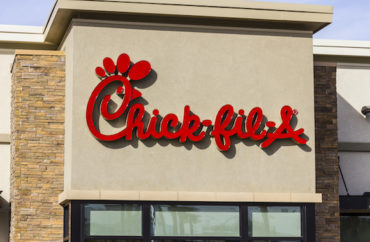 It was a financial move
If you thought LGBTQ activists in the University of Kansas faculty were mad before, wait till you see them now.
Following years of demands that the taxpayer-funded institution discriminate against a vendor because of its founders' religious beliefs, the KU administration actually gave its Chick-fil-A restaurant a better place on campus, The Kansas City Star reports.
Before you assume this was a bold move in favor of viewpoint diversity and fair treatment, it actually fits your other stereotype of universities: that they do everything for financial reasons.
KU's 10-year contract with Chick-fil-A requires upgrades to its location in the basement of Wescoe Hall, where it's been for 15 years, that would cost about $2.6 million more than simply moving it to the student union building, a higher-traffic area, a spokesperson told the newspaper.
Chick-fil-A pays about $60,000 to lease its current spot. Anti-Christian bigots on the KU payroll have been trying to get it booted since the chain's founders became known for supporting measures to keep the definition of marriage as one man, one woman.
That political position was publicly embraced by President Barack Obama until the same year Chick-fil-A CEO Dan Cathy publicly condemned the redefinition of marriage to include same-sex couples.
Taxpayer-funded bigots also object to Chick-fil-A's new sponsorship of the coin toss at KU Jayhawks football games for the next several years, an arrangement that will bring in undisclosed revenue to the university.
Chick-fil-A's critics know the company does not discriminate in its hiring and customer service practices on the basis of sexual orientation or gender identity, but they don't want you to know that….https://t.co/YwkqsvWpZj

— Tim (@whatnowtim) August 30, 2019
Letter misleads KU leadership on when Chick-fil-A made donations
The Sexuality and Gender Diversity Faculty and Staff Council, whose office is near the new location for Chick-fil-A, objected to Chick-fil-A developments in a letter this week to Chancellor Doug Girod, the provost's office and the athletic department.
They expressed their "extreme frustration" at the university's financially motivated moves regarding Chick-fil-A, whose financial donations show it is "hostile" to LGBTQ groups.
It mentions funding for Exodus International, a ministry that offered to help people deal with unwanted same-sex attraction before shuttering in 2013, and the Family Research Council, a conservative Christian group.
The letter fails to note that Campus Pride, a national college LGBTQ group, confirmed in 2013 that Chick-fil-A had not funded those groups since 2011, when outrage against the restaurant chain started. Likewise, it cites Cathy's statements from around the same time but fails to note when they were made.
The letter claims that trying to ban Chick-fil-A is not anti-Christian because "many Christians are supportive of the LGBTQ community." (Historic Christian teaching says that male-female marriage is intended to reflect Christ's marriage to the church.)
Instead, "the culture" of the chain "fosters hate and discrimination on multiple levels," the council claims, without citing any incident other than the founders' political donations from the first Obama administration.
MORE: Chick-fil-A remains on campuses because … students like it
The Sexuality and Gender Diversity Faculty Staff Council released a statement Monday morning denouncing the University of Kansas' recent moves to "deepen its relationship with Chick-fil-A."https://t.co/9XSMxBQW1F

— University Daily Kansan (@KansanNews) August 28, 2019
The administration's financial motives are illegitimate, the council argues:
Despite our denouncements and the university's own moves to increase the campus's diversity, equity, and inclusion, KU granted Chick-fil-A, a bastion of bigotry, a prime retail location in the heart of our campus. The Union houses spaces that the KU community designates as safe and accepting—not least of which are the Office of Multicultural Affairs and the Center for Sexual & Gender Diversity. … The arrival of Chick-fil-A in this building is insulting, counterproductive, and unacceptable.

Moving Chick-Fil-A to the Union and granting it a role at the start of all home football games violates the feelings of safety and inclusion that so many of us have striven to create, foster, and protect on campus, and sends a message that the Union, KU Athletics, and the administration at large are more concerned about money and corporate sponsorship than the physical, emotional, and mental wellbeing of marginalized and LGBTQ people.
KU ignored the council's last effort to kick out Chick-fil-A in 2014, approving a new 10-year contract, according to Katie Batza, women and gender studies professor and council president:
Batza said the council is now preparing a "no vendor list" for the KU provost in hopes of preventing a similar situation with some other company that faculty and students object to.

But as for Chick-fil-A, Batza said Interim Provost Carl W. Lejuez told the council its best bet was to wait for 2024, when the restaurant's contract is due for renewal. The council can hope that the university does not extend the contract. "But they are not giving us any guarantee that the contact won't be renewed again," Batza said.
Chick-fil-A's bigoted opponents are falling further behind on Midwestern college campuses, according to the Star. The chain already has a presence at the University of Missouri-Kansas City and near Mizzou's football stadium, and its sandwiches will be served for the first time at Kansas State home football games this season.
Read the report and letter.
MORE: Dean resigns because of university's bigoted rejection of Chick-fil-A
IMAGE: Jonathan Weiss / Shutterstock.com
Like The College Fix on Facebook / Follow us on Twitter