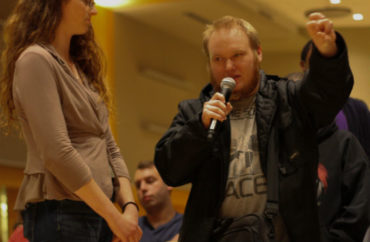 Cheers for 'far-left' activist who's 'interested in talking to people on the other side'
PORTLAND, Ore. – Despite the best efforts of an unknown heckler, people of differing views actually learned from each other at Portland State University Thursday night.
The audience regrouped after the fire alarm was pulled on the standing room-only event, "Two white males discussing feminism," hosted by the College Republicans chapters at PSU and Western Oregon University.
British YouTube political and social commentator Carl Benjamin, better known as Sargon of Akkad, and PSU philosophy professor Peter Boghossian (below) discussed feminism, academia and PSU's Bias Response Team.
They even let a self-described "far-left" activist advertise an event "on the other side" of the political spectrum, drawing cheers from the audience.
Campus police arrived before the event even though no reports of threats or protest were made, according to Philip Arola, president of the PSU College Republicans. Asked why campus police were armed, Sgt. Willie Halliburton told The College Fix: "All sworn police officers are armed if they're on duty at PSU."
The two CRs chapters put their funds together for the event, Arola told The Fix through a private Facebook message. The rest of Benjamin's speaking fee was originally "coming from an anonymous donor," but the clubs later learned that IRS regulations prohibited this, he said. The CRs are working on another way of compensating Benjamin, who is an "understanding guy."
MORE: Disarm PSU says it's racist to give guns to campus police
#SargonofAkkadPDX & @peterboghossian hold up protest banner found outside: "GTFO Sargon. Alt-right is dead." pic.twitter.com/BUhXMX9ORC

— Andy C. Ngo (@MrAndyNgo) June 1, 2018
The goal is 'a kind of progressive sharia law' 
The first tension of the night started with Boghossian, the PSU professor who previously hosted fired Google engineer James Damore, refusing to dismiss the crowd after the fire alarm was pulled.
The speakers had just been introduced when the Smith Memorial Ballroom, which seats 600, filled with sequenced ringing and flashing lights.
"No, I'm not evacuating," Boghossian told a university official after campus police said they had to leave. He relented, and the crowd was evacuated outside for around 10 minutes before coming back in.
The event resumed with Boghossian and Benjamin, known for popularizing the fictional 4chan country "Kekistan" (below), reading a handout distributed by the PSU CRs.
MORE: PSU tries to preempt Damore event with its own diversity series
Crowd outside the room, waiting to get in
The audience quickly filled the room
The sheet contained information on the university's Bias Response Team, detailing what bias is and how to be aware of it. It included information from "A Progressive's Style Guide," distributed by the anti-corporate community SumOfUs, about words that "decolonization activists" use and avoid/question.
Among the words that should not be used, according to the guide: Eskimo, folklore, both full and half-blooded, part-native/Indian/aboriginal, magic, sorcery and myth.
"What they're doing is effectively trying to create a kind of progressive sharia law. They want to police every aspect of your behavior and make sure it's within the orthodoxy," Benjamin told the audience.
#SargonofAkkad reads words one shouldn't say per Portland State University. pic.twitter.com/4jVXkZkljo

— Autumn Berend (@Autumn_Berend) June 1, 2018
"You don't call the bias response team…" "you have conversation," said @peterboghossian

— Autumn Berend (@Autumn_Berend) June 1, 2018
MORE: PSU students protest gay speaker who defends free speech
"The first time I was introduced to Jordan Peterson was on that TVO debate," Benjamin said, referring to the University of Toronto psychologist whose public refusal to use gender-neutral pronouns made him a polarizing figure across North America.
Referring to Peterson's colleague Nicholas Matte, who teaches sexual diversity studies and appeared with him on The Agenda with Steve Paikin, Benjamin (below) continued:
[T]he guy opposite of him was literally like, 'Um, I'm just going to have to start by saying gender isn't real, biological sex isn't real and we'll go from there.' No we fucking won't. You have to believe the brass balls on that little soy-boy [a term analogous to "beta male"].
 'I identify as someone from the far-left'
The event continued with no disruption after the fire alarm, in stark contrast with events on campuses nationwide that feature right-of-center viewpoints on race, gender and other forms of identity.
The most moving part of the evening for many attendees came from a student in PSU's Art & Social Practice program, who took to the microphone for the last audience question.
"I find all the stuff you've been talking about pretty offensive and frustrating," Lauren Moran began as people started to comment and laugh. "Let her speak," Boghossian interjected from the stage.
Holding a sheaf of flyers (below), Moran continued: "And I feel like there's a lot of misconceptions. I identify as someone from the far-left and I'm holding an event tomorrow at City Hall about discussions and our differences. I'm interested in talking to people on the other side of things."
(In a phone call with The Fix after the event, Moran asked to be identified by they/them pronouns, but did not identify as such at the event. Others referred to Moran with she/her pronouns.)
MORE: Protesters fail to shut down PSU Damore event
Moran's flyer for an event "about discussions and our differences"
Boghossian invited Moran, who was shaking and red-faced, to share details about the event. The crowd cheered and clapped as Moran finished.
"I thought [Moran] was brave. I thought she was incredibly courageous," Boghossian told The Fix:
I think that's exactly what we need more of, people going to "the other side." I sincerely hope everybody treated her with kindness. And that's why I had her explain "this is my event, there is where it is, this is what it's doing." I have no monopoly on these things and if someone comes up and brings a reasonable argument, I want to hear the argument.
Benjamin told The Fix that he had a "lot of respect" for Moran, for whom speaking to such a crowd was likely terrifying.
"Especially if you're in a far-left worldview that believes almost everyone else is a Nazi and that there's a massive Nazi problem in the United States and that they're running around everywhere," Benjamin said. "It must have been pretty scary, especially if you think that's a room full of them, and it was nice to see everyone applaud" for Moran.
MORE: PSU prof under investigation for pro-colonialism article
Tender moment when woman who disagreed with speakers spoke at the microphone and was cheered. #SargonofAkkadPDX pic.twitter.com/W6oYXlvXMT

— Andy C. Ngo (@MrAndyNgo) June 1, 2018
Moran told The Fix they have attended Boghossian's events before, claiming that it felt "very much like an unexpected rant."
"I went and tried to listen and it felt very one-sided, and some of the facts they were saying, like some of the things they focused on, were exaggerated," Moran told The Fix. "Very demonizing of the left."
They said that they had also attended an event with Patriot Prayer, an organization that attempts to fight big government with "the strength and power of love." Its leader, conservative activist Joey Gibson, is running for Senate in Washington.
'My mom went to school here. It used to not be this crazy'
Also speaking from the question-and-answer line, which stretched to the back of the hall, a young man dressed in antifascist apparel (below) politely asked Boghossian and Benjamin for their thoughts on Palestine and Israel.
The Fix found the young man, clad in a black bandana and shirt pins including a turquoise Antifa twin flag, in discussion with another attendee after he spoke. While they don't agree on most issues, their conversation revealed they agree on the Palestine issue. The Antifa adherent said it was a "good lecture." Both declined to identify themselves to The Fix.
Among the crowd of attendees for Benjamin was fellow YouTube pundit Matt Jarbo, known as MundaneMatt, who is based across the river in Washington state.
"I thought it was really interesting going back and forth on [A Progressive's Style Guide], because I didn't know that existed and it's extremely frightening that it's circulating around," Jarbo told The Fix. "Anything can get you busted by the [Bias Response Team] here. Like, what happened to PSU? My mom went to school here. It used to not be this crazy."
MORE: Threats of violence against PSU students who invited Damore
A follower of Antifa asks the panel about Israel and Palestine
"The event was pretty solid. I wish there was more actual talk between the two sides," audience member Rob Jackson told The Fix after the event:
I'm awfully tired of the internet culture of the isolation of the two. I want more conversations. Those conversations are there; I've read the literature from the other side … I'm really proud of [Moran] who came out at the end to promote her thing.
Asked for his thoughts about the event overall, Boghossian told The Fix with a laugh: "Well, I was disappointed that people pulled the fire alarm." He added that he and Benjamin tried to make up for the lost time.
"It was particularly cowardly when they pulled the fire alarm, obviously," Benjamin told The Fix. Other than that, "It was nice to be able to have an uninterrupted otherwise conversation and dialogue with the people in the room."
Armed campus police talk as they get ready for the event to begin
After the event, roughly 20 to 30 people gathered at a nearby restaurant, where Arola told The Fix that he would "be pressing charges against whoever's responsible for" pulling the fire alarm.
"I'm going to really, really aggressively [be] pursuing this because I really want to send a strong message that this is not happening again," he said.
"We're not Nazis," Benjamin told The Fix with a chuckle at the restaurant:
In a democracy, the only way we can persuade one another is through argument. And if you want to use violence, you legitimize violence being used against you. And that means that [far-left advocates of violence or disruptive tactics are] going to lose. Because the people who would like to use violence are a lot more serious than they are … We should stick to argumentation, it's better for everyone.
MORE: Chomsky defends PSU prof who defended colonialism
IMAGES: Autumn Berend
Like The College Fix on Facebook / Follow us on Twitter