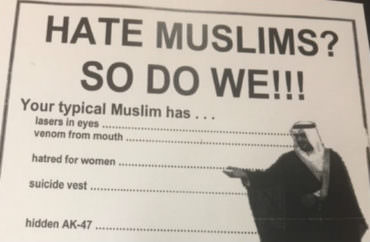 Spent the day installing flags for 9/11 remembrance
George Washington University's chapter of Young America's Foundation hates Muslims.
Not really, but that's what flyers purportedly distributed by the conservative student group around campus claim they believe.
In a statement relayed by the national organization, the GWU chapter said it learned Friday of the "Islamophobic poster" that carried its name, headlined "Hate Muslims? So do we!!!" and promoting an "Islamo-fascism awareness week" next month:
GW YAF is not affiliated with these posters in any way, shape, or form, and we are disgruntled by their contents. Targeting a religion and attempting to defame another organization in doing so is childish, revolting, and distasteful.

GW YAF has been targeted with repeated acts of harassment, vandalism, and indecency for years, simply for being conservative. We are calling on GW to fully investigate these posters, and finally take a stand for conservative students who are continually the targets of acts of harassment, vandalism, and defamation from liberal students.
According to YAF spokesperson Spencer Brown, the GWU chapter was targeted with another fake flyer 10 years ago.
In a statement Saturday, the GWU administration said the "offensive fliers were immediately removed" Friday and its campus police are investigating:
The university does not tolerate actions that make any member of the GW community feel unsafe. We expect that all our students, no matter what opinions they hold, will conduct themselves in the spirit of mutual respect that has long been a hallmark of this university.
The GWU chapter "spent Monday morning putting up thousands of flags in remembrance of the Sept. 11 terror attacks," Fox 5 reports:
But Shannon Bell, the president of GW's chapter, said these anti-Islamic fliers are a case of reverse hate speech.

"When we first saw this, we were shocked and disgusted because this is not what we stand for, and we are really disappointed to see that someone would try to attack us," said Bell. …
MORE: Muslim student group demands all 'Islamophobic speech' be punished
A sea of flags is setup today on the campus of George Washington University this #September11th by @YAF in #DC ?? pic.twitter.com/osuUg4F2Wf

— Tom Fitzgerald (@FitzFox5DC) September 11, 2017
Bell believes the university has a double standard. If a liberal group is targeted, she said there is swift and decision action. But it is not the case when a conservative group is the target.

Peter Konwerski, the vice provost and dean of student affairs at George Washington University, said that is not true and said the university is taking this very seriously.
The same day it removed the flyers, the university posted an article on its "official online news source," GWU Today, on "how to engage in demonstrations while staying safe and respecting others," including a link to its demonstrations policy.
While it doesn't mention the fake flyer targeting YAF, the article quotes Dean Konwerski asking students to be "civil and respectful" as they engage in "vigorous back-and-forth," and to understand that "the university needs to continue to operate" while they protest:
Student protesters should work with the university to reserve space for a demonstration and are encouraged to inform GW of their plans. Students can work with DSA, the GW Police Department, the Center for Student Engagement and Events and Venues to ensure a meaningful and safe protest, Dr. Konwerski said. Administrators also will meet with students to discuss concerns they may have about campus policies or operations.
A senior safety official reminds students that many streets around the campus – just blocks from the White House – "are public streets where protesters can freely gather," and that "everyone has a First Amendment right for free speech and to protest":
We may not always like, and may in some cases find some speech repugnant, but that individual has a right to free speech and to protest, so we have to be respectful of that.
Read the YAF statement, university statement, Fox 5 article and GWU Today article.
MORE: GWU YAF accused of being 'hate group,' may lose funding
IMAGE: Young America's Foundation
Like The College Fix on Facebook / Follow us on Twitter