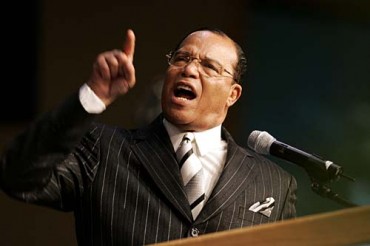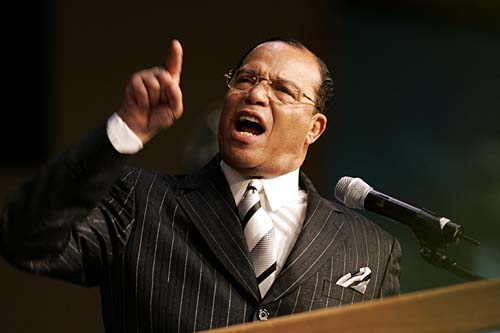 Louis Farrakhan sparked debate at UC Berkeley with his his visit on March 10. The Black Student Union invited the leader of the Nation of Islam to appear as part of its ninth annual Afrikan Black Coalition Conference.
As expected, there were some controversial moments. It was reported that, at one point, he "briefly adopted a faux Asian accent and used gibberish after asking the audience if they had ever seen the Chinese picketing, drawing a gasp from some in the crowd."
Farrakhan is an outspoken racial separatist, an his politics have long been considered controversial. He once called president Barack Obama "an assassin," and has a long history of making inflammatory statements tinged with racism and bigotry.
He once told Californians, "With your state filled with homosexuals, filled with degenerates, filled with disease … With all of this going on in your state, you should welcome me like the return of Jesus Christ."
He called Judaism "a gutter religion" and referred to the Pope as an "Antichrist."
UC president Mark Yudof defended Farrakhan's invitation to speak at the university on free speech grounds: "We cannot as a society allow what we regard as vile speech to lead us to abandon the cherished value of free speech," he wrote in an open letter.
Prior to the event, executives in the UC student government published an op-ed calling on Farrakhan to "exercise his free speech someplace else."
Nevertheless, students affirmed Yudof's sentiment by showing up in large numbers. The 700-seat auditorium was almost filled, while a few protestors gathered outside.
Farrakhan spoke about female empowerment and African American self-reliance and empowerment, especially concerning issues such as education.
Berkeley student Noah Ickowitz said he was offended  by Farrakhan's comments about Jews. "(He said) that Jews control the government and that you need to be their friends in order to be successful, that Jews control the media. To me, that was just so hateful and horrible," Ickowitz said in an interview with KTVU.
The audience gave Farrakhan a standing ovation at the end.
The UC Berkley Public Affairs office would not comment directly about Farrakhan's speech, but did respond with a statement signed by university chancellor Robert J. Birgeneau, which addressed the visit. "We are very pleased that the student groups worked together and engaged in productive dialogues about free speech and the issues students face from a number of perspectives. This is the positive outcome of free speech and what UC Berkeley can be proud of in our long history."
The UC Black Student Union did not respond to a request for comment.
Like The College Fix on Facebook / Follow us on Twitter