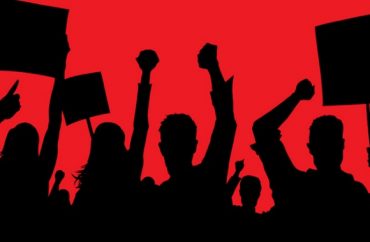 'Go home racists, go home racists!'
A talk by controversial conservative writer Dinesh D'Souza at Dartmouth College generated student protests, with activists calling D'Souza a "fascist" and a "racist" while attempting to disrupt his speaking engagement.
D'Souza came to the campus at the invitation of the school's College Republicans chapter, The Dartmouth reports. Around 200 people attended the event.
In addition, "dozens of students and community members protested the speech," the paper said.
Those protests took a variety of forms, according to The Dartmouth: 
A group of 12 protesters gathered in the hallway signing protest anthems and carrying signs with messages like "Warning: fascist on campus," "Fags against fascists" and "No platform 4 hate." At various intervals, a few protesters entered the hall where D'Souza spoke and carried the signs through the crowd.

Some students made distracting noises during the speech, such as loudly tearing plastic wrapping off of water bottles. A pair of students draped in gay pride attire walked to the front of the room and passionately kissed while D'Souza spoke.

Ellie Gonzalez '19 used protest to convey dissatisfaction in the College Republicans for bringing a speaker who has "acted with malicious intent towards queer people," expressing determination to express frustration in a public, attention-drawing way.

"Our right to exist is not up for debate, and until they get on board with that, I'm going to show up to every event in my gayest outfit and protest any way I damn well please," Gonzalez said.
D'Souza's daughter, Danielle D'Souza Gill, posted a video of what appeared to be part of the protest against her father's speech there. In that video, a small group of students chants "Go home racists" over and over again.
In response to my Dad's lecture: Tolerance, open mindedness, and diversity at @dartmouth? pic.twitter.com/E84JGeb2Pa

— Danielle D'Souza Gill (@danielledsouzag) February 12, 2019
One student claimed that the College Republicans invited D'Souza to campus "as a trigger rather than actually wanting to have a political conversation."
A member of the College Republicans, meanwhile, told The Dartmouth: "[Y]ou would think intellectuals would have a little more integrity than screaming like children outside [the] door."
MORE: Conservatives hosted a debate and no one tried to shut it down!
Like The College Fix on Facebook / Follow us on Twitter