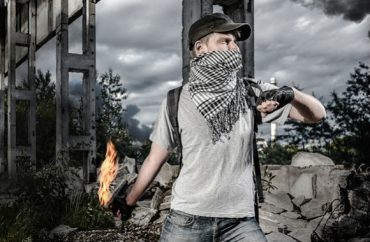 There's a lot of disagreement over whether the University of California-Berkeley did enough to stop left-wing violence before canceling the Milo Yiannopoulos appearance on campus last week, especially the adequacy of the law-enforcement response.
University of Utah Law Prof. Paul Cassell asked incredulously how no one was arrested the night of the riots (which also caused $100,000 in property damage just on campus):
How is it that after more than 100 thugs organized, well in advance, to invade the campus, and police were alerted to the risk of violence, again well in advance, no arrests were made the night of the attack? Indeed, in the days afterward, police following up (are they following up?) are unable to find any digital fingerprints or other pieces of evidence to begin prosecuting those responsible.
Campus officials defended their response, saying the university is "not the National Guard" and that the "use of force would have been escalated" if police had tried to apprehend the rioters.
MORE: Berkeley Republican says pro-Milo students still getting threats
The Foundation for Individual Rights in Education tentatively defended the school's response, saying it made "good-faith efforts to prepare for a conflict" and that officers need "some discretion to determine how and when to intervene" in a dangerous situation.
Now we'll see what the feds think. Berkeleyside reports that UC-Berkeley claims its police are "working in close concert with the FBI on an ongoing investigation into the matter":
The FBI on Wednesday responded to an email from Berkeleyside requesting information. It confirmed it was in contact with both the Berkeley police and UCPD, but would not confirm or deny an ongoing investigation about the violence that erupted at the protests. The FBI's Prentice Danneriii also noted, by email, that the FBI does "not open investigations based on First Amendment activities."
MORE: Berkeley CRs' personal info published by radical leftists
The local news outlet said one protest group had taken credit for shutting down the event but disavowed any property damage:
The group, By Any Means Necessary (BAMN), a left-wing group that is often confrontational, has claimed that it was one of the "organizers of Berkeley's shutdown of white neo-fascist Milo Yiannopoulos." One of its leaders, Yvette Felarca, who is also a [Berkeley Unified School District] middle-school teacher, spoke against Yiannopoulos through a megaphone at the protests, and later told Berkeleyside the chaos and destruction were a "stunning achievement."
It also reports that a woman (only known as "Katrina") who came to see Yiannopoulos and was pepper-sprayed by a protester has launched a "crowd-funded bounty" page to help identify her attacker(s):
So far, people have contributed $1,272 to locate one of the alleged assailants, and $830 and $500 to find two others. If someone provides the correct information, they will get the money.

"Expose this pepper-spraying Antifa Ninja who assaulted an innocent woman," reads one of the entries on the site. It continues on another page: "This criminal, caught red-handed on tape, must be identified, exposed, and turned over to law enforcement and the legal system so that justice can be served."
MORE: Student paper says riots were 'same freedom of speech' as Milo's
HUGE thanks to these two volunteer ladies who gave me medical care when the police did nothing. pic.twitter.com/R1uS4c8Gtz

— S. Misanthrope (@SMisanthrope) February 5, 2017
As of Thursday night the "bounty" has since increased to $1,321 to identify one attacker and $880 for a second.
MORE: Trump threatens UC-Berkeley's funding after Milo riots
Like The College Fix on Facebook / Follow us on Twitter
IMAGES: Alex Tihonovs/Shutterstock, WeSearchr screenshot