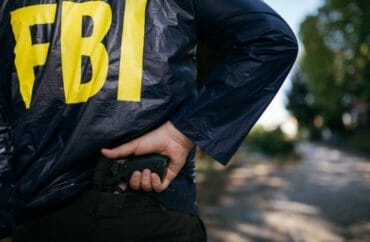 Officials with the Federal Bureau of Investigations are expending resources to probe a series of signs and stickers left at some Vermont universities recently that defend white privilege.
Offering slogans such as "White Privelaged [sic] And Proud of It," "Innocent Lives Matter Not Guilty Ones" and "it's OK to be white," they were found at the University of Vermont, St. Michael's College and Champlain College, reports Vermont Public Radio.
Authorities, including local police and the FBI, launched an investigation to determine the culprits behind the messaging, arguing that while it did not "appear to rise to the level of criminal activity, a multi-jurisdictional investigation sought to identify the individuals responsible in order to determine if they were part of an extremist group with a potential for violence," according to a Feb. 23 statement released by Burlington, Vt., police.
The investigation uncovered that it was more like a bunch of malicious mischief makers, mostly from out of state and not affiliated with the schools, not some sort of band of extremist white nationalists bent on violence.
But the FBI continues to monitor the situation.
"No evidence recovered suggests intentions of violence. Regardless, since violence can go hand in hand with racial extremism, the Federal Bureau of Investigation and local partners will continue to monitor the group's actions," the statement added.
Meanwhile, students of color at the University of Vermont are angry the propaganda has not been prosecuted as a hate crime, but campus authorities have demurred, saying "UVM Police Services evaluated the scene and determined there was no property damage, and therefore no crime to investigate," the Burlington Free Press reports.
University of Vermont is where a Black Lives Matter flag was hoisted before it was stolen off the pole in 2016. This year, Black Lives Matter signs were hung during Black History Month in February. At least one of the white privilege signs was found next to such a display, prompting outrage.
An activist group there called No Names for Justice cited the stolen flag and the white privilege signs as among proof of racism at the school and organized a series of aggressive protests last month to demand various race-based concessions from campus leaders.
No Names for Justice told The College Fix that they still have not gotten all of what they want yet for the university to be more inclusive.
"We are continuing to work towards the meeting of our demands, we currently are in negotiations with the administration, working with them to create action plans to have these demands carried out," its members told The Fix via a message from its Facebook page.
Both Harmony Edosomwan, president of Black Student Union, and Ebony Nyoni, co-founder of Black Lives Matter Vermont, did not respond to The College Fix for comment.
According to an open letter sent to the school deans, the organization demands administrators hire more LGBTQ professors and scholars of color, as well as mandatory diversity training for faculty and staff on "ableism, classism, gender-based violence, homophobia, rape culture, racism and white supremacy, religious-based discrimination and violence, transphobia and transmisogyny, xenophobia and white nationalism, and any other matters of equity for marginalized peoples."
No Names for Justice also argues with the contention that their protests were too aggressive.
"Stating that students of color were 'aggressive' or 'threatening' in their peaceful efforts to reclaim spaces for the sake of justice when hundreds of witnesses can attest to the civility and care that protesters showed to all members of the community is problematic. This view of students is reminiscent of white colonizers who regarded people of color as violent savages simply because they demanded their rights to be respected," the open letter stated.
MORE: 'It's okay to be white' signs spark outrage on campuses
Like The College Fix on Facebook / Follow us on Twitter