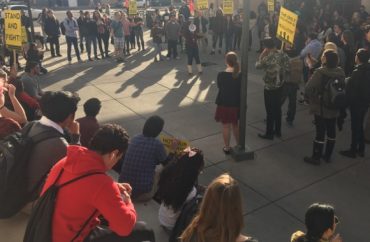 ALBUQUERQUE, N.M.— Students took part in a profanity-laced campus "walk out" at the University of New Mexico on Wednesday evening to stand against President-Elect Donald Trump and what they contend are "hateful right wing forces."
"No Trump, no KKK, no racists, USA," "f*ck your wall, f*uck Donald Trump!" and "f*ck Trump, f*ck that puto!" were phrases heard among the crowd of roughly 100 students and community members.
Several students in the crowd said their instructors allowed them to come to class late, leave class early, or even skip class altogether to participate.
According to the Facebook event page, the walk out aimed to protest "at least two reported attacks against Muslim women on campus, in addition to the racist graffiti spotted around campus," calling the incidents "a clear indication that right wing forces and individuals feel emboldened enough to attack LBGTQ2+, Muslims, Undocumented individuals, women, and students of color on campus."
"This is a call to action to mobilize against those who wish to do us harm at a time when we feel fractured and disempowered," the event page states. "We will show strength in unity and show these hateful right wing forces that the violent rhetoric of Trump will not suppress our resistance."
The graffiti incident, buildings tagged with Trump's name, a swastika, and a German phrase commonly used as a Nazi salute, spawned a public statement from UNM President Robert Frank on Nov. 9 who told the campus "freedom of expression is a precious right. Property damage is not an expression of that right, but is a potential crime, and we will not tolerate it on our campus," KRQE reports.
As for the walk out, organizers spoke to the crowd with a megaphone, and expressed their support for Palestinians, Black Lives Matter and people of color, as well as their opposition to America's history of "capitalism, colonialism and patriarchy."
President of the Albuquerque Center for Peace and Justice, Samia Assed, said she feels "outraged" at the election results, and concerned as a Muslim with Trump's talk of a Muslim registry.
"I hope our allies will stand out to say 'no' to these efforts," she said, adding she herself would not use the language of the protesters, but that it was not hateful, simply "a cry for justice," a "non-violent way of communication."
UNM student Derek Jarner said he walked up to the rally without knowing what was going on, but told The College Fix he agrees with demonstrators. "Donald trump does not represent the United States. He doesn't represent the majority," he said.
When asked why Trump would target the LGBTQ community after holding the LGBTQ flag and supporting gay marriage, Jarner said he was "not informed enough on what Trump's stance is."
When asked if the language of the rally, specifically "f*uck Trump, f*uck that puto" displayed hatred, UNM student Ana Carla Passos-Morgan said she felt "people need to show what they are feeling."
Passos-Morgan emphasized she would not use such language, but that "people do need to show how dissatisfied they are" and "it's valid as long as there is no violence."
Passos-Morgan was allowed to show up late to her master's class, taught by Professor Rebecca Blum Martinez, who also attended the protest.
"I can't cancel class because I wasn't here last week … but I just think it's very important to be out here," Martinez said, adding she decided to join her students to show "solidarity" and planned to group together after class and talk about the protest.
When asked if Martinez would allow students to miss class to partake in other social gatherings or protests, she said it would be determined based on the number of absences they have in the class.
Benjamin Abbott, a UNM instructor, posted on the event page: "I'm teaching a class during part of this event (4-6:30pm). Is this a literal walkout? What are y'all suggesting to instructors in this regard?" to which the Kiva Club replied: "Yes this is a literal walkout. We are suggesting all instructors participate in this action as well because we are trying to make a statement to the university that our safety matters."
One poster replied to Abbott with a complaint, however, commenting "shouldn't instructors … I don't know … INSTRUCT their students in their scheduled class during this time? Not all students will be walking out… The ones who stay, who have paid for their education, should be given their class time instruction and counted in attendance!"
Meanwhile, several students and community members who supported the idea of the protest said they were actually opposed to the rhetoric. One UNM student, Brittany Byrne, wanted "to rally behind the message" but felt she couldn't 100 percent "because they're using the same divisive language," she said.
"There's division on both sides. We all have hate in our hearts either way. I don't know that one person is the problem," she said.
Like The College Fix on Facebook / Follow us on Twitter