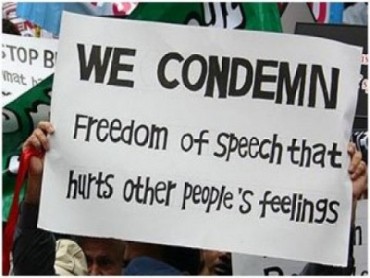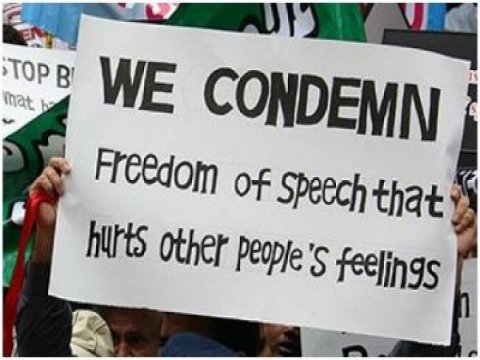 The University of Wisconsin Board of Regents recently passed an academic freedom and free speech resolution, but many are still — amazingly, really — contemplating just what it means.
Others are just plain unhappy about it.
Students who participated in a "Black Out March" in early November held a silent protest against the resolution at the December meeting where it was passed.
Kenneth Cole, one of the organizers of the march, said the resolution "seemed to directly condone offensive speech that protesters allegedly heard during the march."
"In the [resolution], it's OK for students to … say hate speech or discriminatory speech that might be offensive or not conducive to an open and inclusive learning environment for everybody," he said.
Cole is merely echoing what UW-Madison Chancellor Rebecca Blank had stated in a November email: "[N]obody is entitled to express their opinions in ways that diminish others" or "devalues the presence of anyone that is part of our Badger community."
Associated Students of Madison Chair Madison Laning feels similarly: "When you start attacking someone's identity or something a person cannot change, there can be a line drawn," she says.
RELATED: Professor challenges UCLA diversity chancellor on efforts that chill free speech
But, she claims she doesn't want colleges "policing speech;" instead, she advocates — wait for it! — "more campus programs":
"[…] incoming freshmen, many of whom come from racially homogeneous, rural areas, should be required to undergo a cultural competency program before arriving at orientation."
"Required." Of course.
[Kenneth] Cole agreed, adding that in the future, regents should include student concerns on their agenda — specifically, how to discipline discriminatory or hate speech on campus.

"That type of speech should be reprimanded, and we should have a stipulated set of rules on what that is," Cole said. "If [the Board of Regents doesn't] do that, we're of course going to come up with our own guidelines of things that we think are just taking it way too far."
RELATED: Student body presidents: Don't let free speech 'distract' from creating an 'inclusive' campus
Tyriek Mack, a sophomore involved in several groups on campus, including Black Student Union, said when certain controversial topics arise in class discussions, professors should draw the line. He said professors should support free speech while also taking a stand to make sure students don't feel uncomfortable.
Let out a big sigh yet?
Lest you're thinking "Well, the First Amendment isn't absolute," well, yeah, sure. But comfort isn't part of the equation.
"[T]he First Amendment already restricts peer-on-peer harassment, threats and libel, among others," Professor Donald Downs notes in the Badger Herald article. In addition,
[o]ffensive speech targeted at general groups is not illegal because people are allowed to express their beliefs, even if they are unpopular, W. Lee Hansen, former UW economics professor and author of "Academic Freedom on 'Trial': 100 Years of Sifting and Winnowing at the University of Wisconsin," said.

"Some people may be harmed or feel hurt about what they hear," Hansen said. "But it's part of the price we pay for being in a democracy where people can speak freely and say what they want to say."
Ironically, the University of North Carolina's Daily Tar Heel features a piece celebrating the fiftieth anniversary of students defying the law to show that state what the First Amendment really means.
RELATED: Universities are using Title IX to suppress free speech, student rights groups tell court
In order to prevent those associated with the Communist Party from speaking on campus, the North Carolina legislature had passed the "Act to Regulate Visiting Speakers" in 1963:
Students were outraged to see the ban's challenge to the First Amendment, said Jock Lauterer, a senior lecturer in the journalism school and then-chief photographer for The Daily Tar Heel. He said many saw it as an attack on the University.

"We were astonished that the lawmakers in Raleigh would see fit to pass such an egregious and morally corrupt, as we saw it, law," he said.
The courts ruled the act unconstitutional five years later.
Just as such attempts to stifle free expression back then were misguided, so, too, are they today.
While, for the most part, contemporary efforts to thwart speech have not originated (and been enacted) by lawmakers like in 1963 North Carolina, the effect is nonetheless the same.
Organized protesters blocking access to venues and/or shouting down speakers, and university administrations establishing First Amendment-hostile rules and regulations are just the beginning.
The view of "free" speech expressed by students Mack, Cole, and Laning is, unfortunately, becoming more commonplace, and largely has its genesis in "critical race theory."
Read this summary of the book Words That Wound and ask yourself if it doesn't sound awfully familiar:
In this important book, four prominent legal scholars from the tradition of critical race theory draw on the experience of injury from racist hate speech to develop a first amendment interpretation that recognizes such injuries. In their critique of "first amendment orthodoxy," the authors argue that only a history of racism can explain why defamation, invasion of privacy, and fraud are exempt from free-speech guarantees while racist and sexist verbal assaults are not.The rising tide of verbal violence on college campuses has increased the intensity of the "hate speech" debate. This book demonstrates how critical race theory can be brought to bear against both conservative and liberal ideology to motivate a responsible regulation of hate speech.
Right. If anyone thinks there actually would be a "responsible regulation of hate speech," then you haven't been paying much attention to happenings at American colleges these days.
RELATED: Note to university presidents: Hate speech is free speech, and you can't punish it
RELATED: Crack down on 'hate speech' to save free speech, UChicago paper urges
Like The College Fix on Facebook / Follow us on Twitter
IMAGE: Sam Graham/Flickr