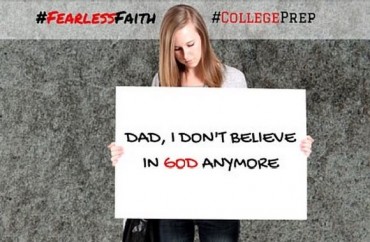 Seminar teaches debate tactics, logic and science supporting Christianity
When young people raised in Christian homes head off to college, they enter a world in which most educators teach from the podium that there is no God, science can prove humans evolved from apes, and the Bible is just a book filled with inconsistencies and contradictions.
They're taught truth is subjective, miracles are fairy tales, and Jesus was just a guy who made some interesting points. They're told by professors and peers that their Christian beliefs are narrow-minded, bigoted and foolish – and are encouraged to become more "enlightened" and "tolerant."
It's all too much for many young people, and in fact some surveys find about 75 percent of Christian youths stop attending church while in college due to intellectual skepticism.
Inspired and saddened by this, Christian apologist, award-winning author and impassioned speaker Dr. Frank Turek started CrossExamined in 2006. The nonprofit, interdenominational ministry teaches young Christians how to respond to and defend their beliefs on college campuses in a logical, scientific way.
This summer, the group launched its new "Fearless Faith" series – one-day seminars that teach students how to respond to professors when their faith is challenged, scientific evidence that supports Christianity, the fallacies of atheism, and much more. The series is specifically geared toward high school students headed off to college.
"A lot of young people walk away from the Church when they get to college, and part of the reason is that we've never told them why Christianity is true," Turek said in a recent interview with The College Fix. "We really started it for that reason, to go to colleges, high schools, and churches to present the evidence that Christianity is true."
Campus battleground
One of the main anecdotes Turek uses to explain the Fearless Faith seminar centers on the daughter of a U.S. Marine, a gal who was the top Christian student in her high school class. Four weeks into her first semester at UNC Chapel Hill, she called her father and said: "Dad, I don't believe in God anymore."
"She ran into atheistic college professors on campus and she didn't know how to answer them so she is an atheist now," Turek explains.
Dr. Mike Adams, a criminology professor at UNC Wilmington and a Townhall columnist who co-leads Fearless Faith, told The College Fix in an interview that "I teach students about mastering the art of asking difficult questions to people who are trying to indoctrinate."
Among his advice, detailed in several Townhall columns, he teaches students Greg Koukl's "Colombo tactic," which undermines "the ability of the professor to indoctrinate other students."
Adams writes:
For example, imagine your professor goes on a rant about how assault weapons need to be banned in order to reduce violent crime. You could respond (using Koukl's Colombo tactic) with something like the following:

What do you mean when you use the term "assault rifle"? (Hint: There is a 99 percent chance the professor will not be able to answer the question).

How did you arrive at the conclusion that these weapons should be banned? In other words, where is the data showing that they cause an increase in violent crime? (Another hint: The professor might not have any data but he might point out that the violent crime rate did go down during the ten-year period of the previous assault weapons ban. If so, you've got him trapped).

Professor, have you ever considered the fact that the violent crime rate also went down in the decade following the lifting of the ban on these so-called assault weapons? How does that affect your claim that they should be banned?

As you can see, using the three-question Colombo tactic requires a little work. But even isolated questions can be effective in the classroom. When your Marxist professor lectures on topics like socialism and cultural relativism, just take good notes and try to think of questions that expose flaws in his worldview.
In his interview with The College Fix, Adams said he thinks atheist professors – nearly one in five according to CrossExamined.org – are drawn to the profession and the tenure it offers.
"The college system really attracts the same type of people that socialism attracts – not people who want to get wealthy, but people who want security," he said.
Fearless Faith is also co-led by J. Warner Wallace, a cold case homicide detective who has been profiled four times on NBC's Dateline for his work on solving murder cases that are decades old.
The belt of truth
One high school student trained in apologetics wrote that the lessons have helped her engage others in tough conversations.
"I used the 'what do you mean by…?' question multiple times. I was so excited that I could keep up and even ask questions that took [the person I was debating] a minute to answer," the student noted. "I now have the ability to think for myself and the confidence that I actually know what I'm talking about."
Turek's teaches lessons based on his book Stealing From God: Why Atheists Need God to Make Their Case. He discusses atheists' inability to rationalize their rejection of God with reason and science.
While the Fearless Faith seminars are new, CrossExamined has averaged 20 events on college campuses per year since 2007. The response has been overwhelmingly positive, and events at some colleges have drawn large crowds, he said.
"I think kids are just interested generally and adults are too," Turek said. "Is there a God? Is Christianity true? What is true? We also get a lot of atheists which make the question and answer sessions interesting."
Turek said he often asks atheists about the likelihood of their conversion if presented with incontrovertible evidence of Christianity's truth. Surprisingly, most say if Christianity were true they still would not covert. Ultimately, he said, it's often not a matter of the mind, but the heart.
"They don't want there to be a God, they want to be God. They don't want anyone telling them what to do so it is more of a moral issue than an intellectual issue. …. They think doing what they want to do will make them happy, but that can only work in the short term," Turek said.
CrossExamined has encountered protests from various campus groups, but Turek said he welcomes dissenters because they draw a larger crowd to the event and create a more vibrant Q&A. Turek said most campus opposition comes from pro-LGBT groups, despite the fact that his ministry does not address same-sex marriage.
"The ironic thing is that we are not coming there to talk about that [LGBT rights]," Turek stated. "We're coming here to talk about if there is a God and if Christianity is true. Sometimes the people who say they are fighting for tolerance are the most intolerant out there."
Parents must act
When asked why college students stray from the faith, Turek said part of the blame lies with parents. He said he believes it is the duty of parents to instruct their children in the truth of the gospel, forming the intellectual and spiritual sides of their faith.
"They're [teenagers] not told why Christianity is true, they're just told to believe it, and some are even chastised for asking questions about their faith," he said.
"The number one influence in a young person's life is their parents," he continued. "The parents can't just say to the pastor that they should teach the kids, the parents have to know the material themselves. Knowing why Christianity is true is not an option but a command for Christians."
CrossExamined has two more Fearless Faith seminars slated for this year, including this weekend at Temple Baptist Church in Hattiesburg, Mississippi. The second is Oct. 31 in New Braunfels, Texas.
RELATED: Philosophy professor argues belief in Christian God means abandoning morality
RELATED: Professor vehemently denounced, attacked Christianity in humanities class
RELATED: Prominent Doctor Says Faith and Science Can Work Together
RELATED: The War on Jesus: Universities Nationwide Snub, Criticize Christ, Survey Finds
RELATED: Professor says Jesus was 'potentially queer' or 'married to a prostitute'
RELATED: The Most Offensive, Obscene Reading Assignment Ever Given By A Professor?!
RELATED: Public University Bans Intelligent Design from Science Classes, Calls it Religion
RELATED: Physics professor tells students scientific evidence points to a 'designer'
Like The College Fix on Facebook / Follow us on Twitter
IMAGES: CrossExamined.org