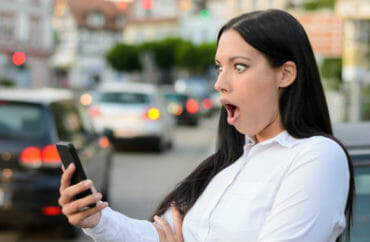 Because Twitter didn't exist when legal precedents were set
Are you a student at a public college in Colorado, Kansas, New Mexico, Oklahoma, Utah or Wyoming? Also, do you tweet?
You might want to transfer to a college in another state, one whose federal appeals court knows something about First Amendment precedents.
The 10th U.S. Circuit Court of Appeals released a bizarre opinion last week exonerating an administrator who expelled a student because he called his ex-girlfriend a "psycho bitch" on Twitter.
Navid Yeasin didn't tweet at her; indeed, he had already blocked her from his feed. But the University of Kansas said he violated an ex post facto condition of an earlier no-contact order by mentioning her at all.
That's right – this publicly funded entity gives itself the right to kneecap the education you already paid for if you privately mention your ex on Twitter.
A state appeals court already overturned Yeasin's expulsion as a violation of KU's own student conduct code – it can't punish off-campus conduct – but ignored First Amendment and Title IX issues.
MORE: Universities use Title IX to suppress free speech, groups tell court
When Yeasin took the administrator responsible for his expulsion to federal court, he made a Section 1983 claim – essentially, that she violated his constitutional rights while acting in a government capacity.
He lost at the trial level, and now the 10th Circuit has affirmed that rejection, seemingly on the basis that Twitter didn't exist when relevant First Amendment precedents were set.
Yes, it's that insane, and Zach Greenberg of the Foundation for Individual Rights in Education lays out the insanity in detail.
Section 1983 can only be overcome by an official who successfully pleads "qualified immunity." It's not in dispute that Tammara Durham, vice provost for student affairs, violated Yeasin's rights. Her only hope for qualified immunity is that Yeasin's rights were not "clearly established" when she expelled him in 2013.
Yeasin argued that several Supreme Court rulings clearly establish the "underlying principle" that universities are not high schools, and can't restrict their students' speech "in the same way."
The three-judge panel said none of those cases – the most recent of which was decided in 1981 – "present circumstances similar to his own."
MORE: Feds' Title IX guidance rebuked by court in tweet-harassment case
One involved a graduate student who distributed a newspaper with "indecent speech" on campus; another, a college that refused to recognize a student club because of "undifferentiated fear" about its national organization; and the last, a college that blocked a religious student group from meeting in university buildings in spite of a policy that designates them "generally open to student groups."
These rulings have "broad principles that are too general to have clearly established Yeasin's right" to tweet about his ex without being punished by KU, according to the panel:
Yeasin's conduct differs from that of the students in his cited cases—in those cases no student had been charged with a crime against another student and followed that up with sexually harassing comments [that were not even accessible to her] affecting her ability to feel safe while attending classes. Dr. Durham had a reasonable belief based on the June 28, 2013 incident and on Yeasin's tweets that his continued enrollment at the university threatened to disrupt A.W.'s education and interfere with her rights.
The court also held that even if Durham violated his "substantive" due process rights, those rights are not clearly established, either.
"By effectively requiring Yeasin to present a previously decided case with a fact pattern virtually identical to his own, the court disregards binding Supreme Court precedent on qualified immunity," FIRE's Greenberg writes:
Not only is the court's logic faulty — it's completely backward. Older cases, while factually dissimilar, establish the longevity of the right's existence, making it easier for plaintiffs to prove that any reasonable officials should have known the law. This is especially pertinent when it comes to First Amendment rights at state colleges, which the Supreme Court has consistently affirmed for decades. The Tenth Circuit's inapposite approach is apparent from the wealth of precedent denying qualified immunity to repressive college officials.
This isn't a new argument: Greenberg's colleague Azhar Majeed wrote an entire law review article about it eight years ago, noting the Supreme Court has explicitly told lower courts to use "common sense" when deciding whether it's "sufficiently clear that a reasonable official would understand that what he is doing violates" a constitutional right.
Thanks to this atrocious and unconstitutional ruling, administrators will be even more emboldened to infringe their students' rights with no fear of ever being held accountable.
Read the ruling and Greenberg's analysis.
MORE: KSU tells KU it's not legally required to police off-campus conduct
MORE: Judge says school can't punish student for idle Facebook threat
IMAGE: michaelheim/Shutterstock
Like The College Fix on Facebook / Follow us on Twitter