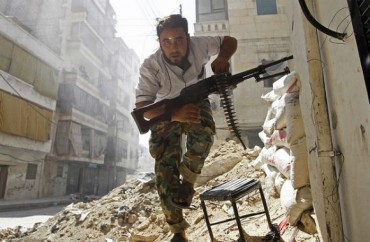 A Syrian student found responsible for sexual misconduct by Pennsylvania State University, under its controversial new "investigative model," will not be deported to his war-torn homeland as he feared.
A federal judge approved the motion for a temporary restraining order by "John Doe" that will let him return to class as his due-process lawsuit against the school proceeds, The Legal Intelligencer reports:
U.S. District Judge Matthew Brann of the Western District of Pennsylvania said in his order that if the student's academic career were interrupted, he would be sent back to Syria "where he will face the potential for serious bodily harm and related injuries."
RELATED: Penn law faculty revolt over new sexual-assault investigation procedures
The university found Doe responsible for nonconsensual sexual activity in a "fivesome" with a woman whom he claimed was legally able to consent, and whose friend contradicted her claim to have been blackout drunk. The academic suspension meant Doe could have been sent back to Syria, where two of his relatives have died in the "unrest."
The student was condemned just months after Penn State switched to a sexual-assault investigative process, widely criticized by law professors and civil libertarians, that robbed accused students of the right to call witnesses and confront their accusers.
RELATED: One official as detective, judge and jury in Penn State rape investigations
IMAGE: a.anis/Flickr
Like The College Fix on Facebook / Follow us on Twitter