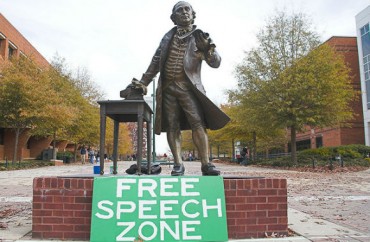 I wonder frequently how millennials who go to law school and become lawyers and judges will reshape the law in the coming decades.
It's not an idle concern: The American Law Institute is undertaking a sweeping revision of its "model penal code" for sexual assault that threatens to reclassify the bulk of sexual relations as rape, following the lead of campus activists whose only legal philosophy is "believe the survivor."
Harvard Law School changed its historic seal shortly after black tape was found on pictures of some black faculty, which looked suspiciously like a hoax (as even one of those professors suggested).
It's enough to make you wish that today's long-serving judges, as much as you may disagree with their philosophy or rulings, would never retire. Or at least speak more to students who haven't been fully brainwashed yet.
The chief judge of the U.S. District Court for the Southern District of New York – who was deprived a promotion to the 2nd U.S. Circuit Court of Appeals by ruling Democrats in election-year 2008 – took her concerns about today's college environment directly to students on Monday night.
Loretta Preska spoke at Harvard Law School to defend something underappreciated, if not treated with scorn, by many students: free speech.
RELATED: Attempt to quietly redefine sexual assault in U.S. law draws backlash from lawyers
The Harvard Crimson reports that Preska lamented the "decreasing tolerance for truly free expression and open debate" on campus, citing free speech zones that let control-freak administrators "banish protesters to remote or marginal parts of the campus" and cyberbullying rules that treat both students and faculty as exquisitely fragile psychologically.
The future of America is at stake, Preska said:
Using these examples, Preska emphasized that "speech should not be censored based on viewpoint, offensiveness, or anything else" because banning statements that are unpopular or not of the majority opinion undermines values promulgated by the Constitution.

"Not only was freedom of speech the progressive ideal on which our nation was founded, it remains something that distinguishes this nation from every other nation on the planet," Preska said.
Preska convinced student Trenton Van Oss, who coordinated the event for the campus Federalist Society chapter, to take the torch from her:
"I think one of the things she said that I really appreciated, was the idea that free speech is something that we have to fight for, every generation," Van Oss said. "We need to work to create a culture of free speech where all views are appreciated."
And the place to start for Van Oss is Cambridge.
RELATED: Harvard vandalism likely hate-crime hoax, but school's 'racist' seal on chopping block, anyway
Like The College Fix on Facebook / Follow us on Twitter
IMAGE: dcJohn/Flickr