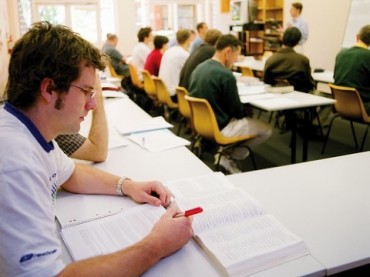 Big brother – and your parents – are watching
The feds have given a Missouri tech scholar $50,000 to develop a facial recognition app that would allow professors to monitor attendance by taking videos of students with their smartphones.
Instructors would briefly take videos before each class and the app would perform automated attendance checks using "recognition algorithms," the grant states.
Zhaozheng Yin, the professor of computer science at Missouri University of Science and Technology who recently received the National Science Foundation grant, said in an email to The College Fix that it is necessary because it could closely monitor student attendance in a timely manner.
"Some students need timely supervision to avoid dropping out when they have skipped too many classes or have a low GPA, which will leave a lot of student debt hard to pay," Yin said. "Parents want to protect their investment. They want to make sure their kids are in class."
To use the app, professors would simply have to take a 5- to 10-second video during each class period, he said.
Yin has already used a version of the app in his own classes. He said it allows the attendance check to be "fast and convenient" while also allowing the beginning of class to be more relaxed.
"I can greet my students to break the ice at the beginning of the class, and my students usually have fun during this process, even making silly faces to challenge my algorithms," Yin said.
According to the grant, the app is also valuable because tracking attendance in large lecture halls can be difficult, and letting students sign an attendance sheet is prone to cheating "since they can sign their own names and their classmates' names who are absent."
But as technological advancements continue to carve out new ways to track and monitor human behavior, many civil libertarian and privacy rights advocates have rung alarm bells over facial recognition.
Still, facial recognition isn't the only tech out there to track attendance.
"New technologies using chips in student IDs and interactive software that allows students to engage with professors through their laptops make the job easier," the Wall Street Journal recently reported. "At Villanova University, student ID cards track attendance at some lectures. Administrators at University of Arkansas last semester began electronically monitoring the class attendance of 750 freshmen as part of a pilot program they might extend to all underclassman."
Yin's grant comes on the heel of a similar new smartphone app, Class120, which allows parents to monitor their own child's attendance.
The $199-per-year Class120 app uses "patent-pending geolocation technology to determine if a college student's smartphone is in or near the classroom at class time," its developers said in a news release.
Parents can opt to receive a text message if their child's phone is not detected in or near the classroom during class time.
The makers of the app stress that parents deserve to be informed about their college student's education, especially if they are paying for tuition. Like Yin, the makers of the app said it allows parents to "protect their investment in a college student's education."
College Fix reporter Nathan Rubbelke is a student at Saint Louis University.
Like The College Fix on Facebook / Follow us on Twitter