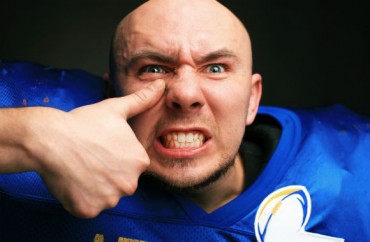 When the National Labor Relations Board issued a "non-ruling" last year over whether Northwestern University football players could unionize, it left in place a regional director's finding that the players were "employees" of the school.
That finding has now led the NLRB's general counsel to tell the school – and presumably all private colleges in the NCAA Football Bowl Subdivision – that it can't regulate what players say or where they say it, ESPN reports:
The ruling does not have force of law on the private schools, but if anyone raised a complaint, the result would likely be similar to the Northwestern case. Coaches and administrators there are no longer able to ban players from posting on social media — as some high-profile programs have done — or even regulate what they say. And whereas Northwestern once barred players from talking to any media not approved by the school, it is no longer allowed to do so.
MORE: Catholic college faculty can't unionize in surprise NLRB ruling
The NLRB was responding to a complaint filed by a labor lawyer, David Rosenfeld, unconnected with Northwestern or the players, who claimed the school imposed "unfair labor practices" on players:
In response to Rosenfeld's charge, the NLRB issued an "advice memorandum" late last month that described the Northwestern team rules as "unlawfully overbroad." …

The jumping off point for Rosenfeld's filing was a decision in 2014 by the NLRB Regional Administrator in Chicago, Peter Ohr, that Northwestern players were employees. …

But even as the NLRB refused to take jurisdiction over the situation, Ohr's decision that the players were employees remained untouched and in effect. In the memorandum made public last week, an associate general counsel of the NLRB stated in a footnote that he "assume(d) that Northwestern's scholarship football players are statutory employees."
MORE: Obama appointees likely to force private schools to accept grad student unions
During the NLRB proceeding that stemmed from Rosenfeld's complaint, Northwestern agreed to modify several rules at issue. Inside NU has a rundown, as well as the "exact wording changes" in several parts of the football handbook:
The program changed its social media policy so that football players would no longer be "regularly monitored."

Football players will be allowed to talk generally about medical issues and concerns with those outside the program, without mentioning specific players or injuries.

MORE: Northwestern players get maternity coverage under Obamacare

Northwestern changed its entire "dispute resolution procedure" because it prohibited discussions of "workplace grievances" with fellow players and "third parties."

Football players are now allowed to speak to media members directly on their own accord, without necessarily having to refer media inquiries to the athletic communications office.
ESPN also notes that the revised handbook encourages players to praise their teammates by name when they give interviews: "share the credit for your success," which
shows you have confidence in your own role and the value of your own contributions, so you're not afraid of letting someone else have their moment of glory, too.
Read the ESPN and Inside NU stories.
MORE: Labor law experts say college athletes are employees, can unionize
h/t Inside Higher Ed
Like The College Fix on Facebook / Follow us on Twitter
IMAGE: Yaroslav Kazakov/Shutterstock
Like The College Fix on Facebook / Follow us on Twitter