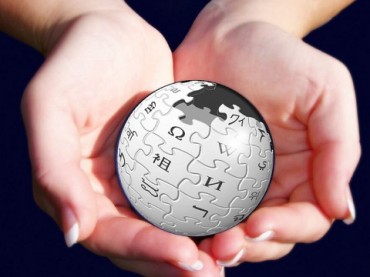 Apparently because all the big issues surrounding us today are resolved, the National Science Foundation is shelling out $202,000 to study Wikipedia's "systematic gender bias." The Washington Free Beacon reports:
The government has awarded two grants for collaborative research to professors at Yale University and New York University to study what the researchers describe as "systematic gender bias" in the online encyclopedia.

"Wikipedia was launched in 2001 and has since become the world's single most important reference tool and information clearinghouse," the grant states. "Unlike traditional encyclopedias, which are controlled by experts, Wikipedia was supposed to have democratized knowledge."

"Under-representation of female scholars and associated scholarship reduces the quality and completeness of Wikipedia, imposing significant costs on the millions of readers who rely on it," it said. "The findings from this research should clarify where in the complex chain of knowledge gender disparities arise.
"Imposing significant costs" on readers …? Really? Aren't facts facts and knowledge knowledge, no matter who contributes? Apparently not:
["Media technologist" Deanna] Zandt argues that Wikipedia is biased because the majority of its editors are "young, white, child-free men."

"It's not enough to sit back and hope for the best when finding sexist, racist, homophobic, trans*phobic, etc., language or information on Wikipedia," she said. "In order to fix it, we need lots of different kinds of people to jump in and start editing Wikipedia, too."
One of the examples of Wikipedia's "gender bias," cited by The New York Times' Noam Cohen, is that the episode synopses for Sex in the City aren't nearly as long and detailed as those for The Sopranos.
Well! Count me sold on this grant, then!
Like The College Fix on Facebook / Follow us on Twitter
IMAGE: nojhan/Flickr