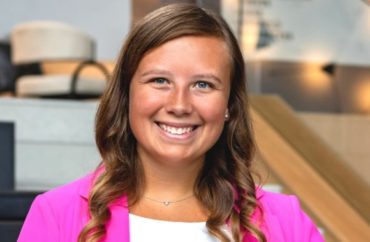 'I've been able to become better educated on many conservative policies, grow as leader on and off campus, and make friends along the way'
A conservative student leader at West Virginia University said that being in college can be "nerve-wracking" for center-right individuals, but she was able to gain confidence through her involvement with the Network of enlightened Women.
"When I first started NeW at West Virginia University, I was mainly looking for a way to build a community of conservative women on campus," Caroline Johnson, the president of the WVU chapter, told The College Fix via email.
"However, it has become so much more than that, and I've been able to become better educated on many conservative policies, grow as a leader on and off campus, and make friends along the way," Johnson (pictured) said.
"As someone who is an industrial engineering major and not pursuing a career in politics, it has been a great way to still be involved and try to make an impact."
Johnson said the best advice she had for new members of NeW is to not be afraid to get involved and stand up for their beliefs.
"It can be nerve-wracking to come out as being conservative on a college campus and share your beliefs, but it is definitely worth it," she said. "Joining NeW provides you with so many opportunities to connect and make friends with those who share the same values, the chance to build your leadership skills, professional development, and more."
Johnson told The Fix that she liked bringing speakers to campus because it was a great way for members of the organization to become "better educated" on policies and current events.
The national Network of enlightened Women organization highlighted the WVU chapter this semester for the "great work" it was doing.
Network of enlightened Women trains students nationally
The national headquarters spoke to The Fix about why the organization is important for fighting for conservative values.
"Our mission at NeW is to educate, equip, and empower young women to be principled leaders for a free society," Chloe Sparwath, the group's campus coordinator, told The Fix via email. "To me, NeW means community, and is a reminder to so many young women that they are not alone."
Franchetta Groves, a communications associate and student at Catholic University of America, told The Fix the group provides a "supportive community" that advocates for the "principles of freedom and intellectual diversity."
Groves took advantage of media training as a student.
"Through taking part in the Student Media Fellowship, I became media trained and learned how to write an op-ed," she said. "It is because of the support and guidance from NeW that I was able to be published by CNN twice in the last year."
"When you are surrounded by a supportive community of women, it gives you the courage to stand up for your beliefs even when it is countercultural," she said.
Sparwath agreed that it is important to take advantage of the opportunities to learn and network with other conservative women.
"As with most opportunities, you get out of NeW what you put into it," Sparwath said. "I would encourage new members to take advantage of as many of our national programs as possible."
She cited the group's national book club and an annual leadership retreat as two quality opportunities.
She said that Karin Lips, the president of the Network of enlightened Women, works to individually know chapter leaders and that the group has a "hands-on approach" and wants to "individually invest" in students.
"When I was in college, she recommended me for the Heritage Foundation's Rising Leaders program, where I got to travel to Texas to meet with top conservative intellectuals," Sparwath said.
"NeW staff members have helped me get my writing published, meet job recruiters, attend conferences, and all kinds of other opportunities. So many of the cool opportunities that were afforded to me in college were because of NeW."
MORE: Well-known pro-life activist withstands threats and harassment
IMAGE: Network of Enlightened Women/Instagram
Like The College Fix on Facebook / Follow us on Twitter