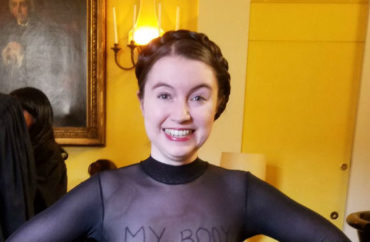 Other women criticized her
Victoria Bateman is at it again.
The Cambridge University lecturer who showed up naked to a faculty meeting to protest Brexit ("Brexit leaves Britain naked") went slightly more conservative at an end-of-term university dinner last week.
She donned a sheer body suit that revealed her breasts but partly covered her groin area, and wrote the pro-abortion slogan "my body my choice" on her upper chest and stomach. Bateman called it "feminist fashion." Warning: Her tweet is in-your-face full frontal nudity.
Surprisingly, Bateman didn't get a response to her nude tweet for six days, when a user finally asked her what was the point of the exercise.
She responded by citing her previous work – that she was "using her body to deliver her own message to other women" and that women shouldn't make decisions based on how men "see" them (her scare quotes).
After the website Pluralist covered her public nudity (rim shot), she told the publication that it was "interesting" how much "verbal abuse" she got on Twitter from other women:
​"If for centuries women's bodies have been used and abused for other people's benefit," said Bateman, "why shouldn't a modern day woman be able to subvert that?"
​
But she wasn't surprised.​ …

"Is it any wonder that it is taking centuries for women to achieve equality when (some) women themselves try to undermine and discredit those of us who make decisions that differ from the norm?"
Bateman claims she opposes all forms of legislated control over women's bodies, including Denmark's new burqa ban, Saudi Arabia's modesty laws and the criminalization of prostitution.
Things are in many ways moving backwards for women's freedom – if we are to stop that, we must challenge the belief responsible for so many historic restrictions on women: the idea that their bodies are the root of sin https://t.co/spm9PUuOfp 1/2 pic.twitter.com/cVJmrUyqmz

— Victoria Bateman (@vnbateman) June 20, 2018
Read Pluralist coverage, but be warned: It includes Bateman's full-frontal tweet.
MORE: Victoria Bateman's nude Brexit protest accomplishes nothing
IMAGE: Victoria Bateman/Twitter
Like The College Fix on Facebook / Follow us on Twitter